3 Ways to Make The California Bag Ban Work for Your Business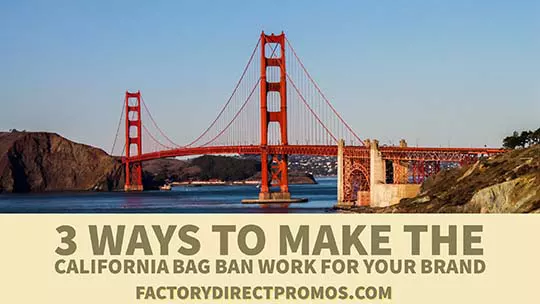 California Bag Ban Means BIG Opportunity for Your Brand. Here's How.
When California passed a disposable plastic bag ban, this was big news for the environment. We have told you what your business needs to know about the California bag ban. In can take time, but once shoppers form the habit of bringing their reusable bags to the store, bag bans can also help retailers. It is worth noting that the California Grocers Association supports the California bag ban. The positive impact extends to other businesses, too. Here are 3 ways to make the California bag ban work for your brand.
Increase Repeat Retail Business

As with all bans, the California bag ban causes an increased demand and use for reusable shopping bags. Reusable bags are an opportunity to create a relationship with your customers to earn repeat retail business. When given as a gift, your branded reusable grocery bags will leave a positive impression and show your customers that your brand is thoughtful and aware of their needs. Reusable bags also give you the chance to offer promotions and incentives to customers who bring your customized bags back to shop.

Overcome 5 Common Marketing Challenges with Reusable Bags

Reusable bags are a very viable solution to a variety of marketing challenges. Build brand awareness, establish a rapport with customers, drive sales, create awareness around new products and launches, and enter new markets all with customized reusable bags.

Experience Excellent Marketing ROI

Reusable bags deliver so much value. The durable construction that makes them reusable means they last for many years. The longer your custom reusable bags is out there being used the more reach your branding message will receive. Custom reusable bags are a reliable marketing tool that also meet your brand's green initiatives. When you promote your brand with custom reusable bags you are helping the planet, too.
Support the California Bag Ban and Your Brand
If you want to learn more, we have answered the 7 most common questions about the California bag ban. If you are doing business in California, don't just know about the ban, be about the ban and create your own custom reusable bags. After more than 20 years in business manufacturing reusable bags, we know how to make the process easy and affordable. Feel free to request our catalog or fill out a quote request to get started today.
Tagged