Wholesale Reusable Bags and Totes
from Factory Direct Promos
Including reusable grocery bags, shopping bags, trade show bags, promotional bags, and more. Order directly from the manufacturer and save.
Reusable bags are an ideal eco-friendly alternative to single-use plastic bags. Our complete product line of eco-friendly reusable and recycled bags and totes can be customized with your identity, branding, and marketing messaging—while also making a statement about your commitment to environmental sustainability and reducing your company's carbon footprint.
Our Most Requested Products
Eco-Friendly Bags at Factory Direct Wholesale Pricing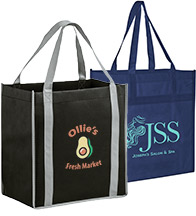 Reusable Grocery Bags
Strong, heavyweight reusable grocery bags and totes in a range of sizes, styles, and colors, constructed from durable, non-woven, and recycled materials with custom design and imprint options.
Certified Reusable Grocery Bags ⇒
Custom Reusable Bags from High Quality, Durable Materials
Reusable bags from Factory Direct Promos include a vast range of woven and non-woven bag styles, sizes, and materials, including reusable polypropylene bags, recycled bags made from post-consumer recycled content, and canvas and jute bags and totes. When you work with Factory Direct Promos, we help you select the perfect bags and totes, taking ownership of your project and managing the process from start to finish—from in-house design and production to dedicated manufacturing to delivery.
Our flexible direct-from-manufacturer business model makes us a leading, worldwide wholesale provider in the eco-friendly bags and promotional products industry. We offer stateside manufacturing for fast turnarounds and overseas manufacturing when below wholesale pricing is the top priority.
Fill out an online product quote request form or give us a call to get started marketing your brand in an eco-friendly way that works for your business and the environment.