California Bag Ban: Answering the 7 Most Common Questions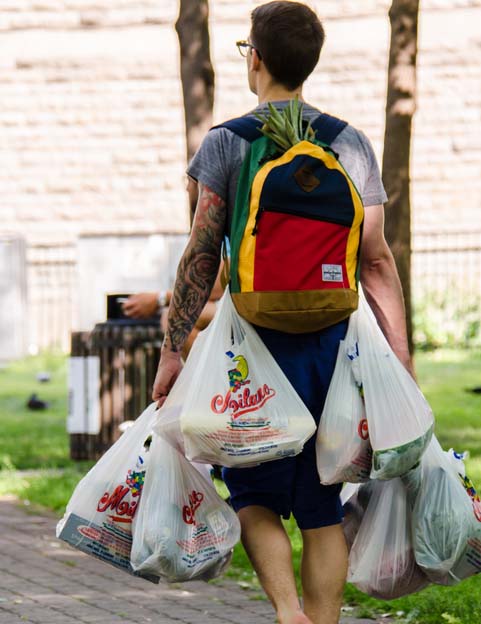 Answering the 7 Most Common California Bag Ban Questions
We've all had the experience of carrying a bundle of plastic bags from the grocery store. Sometimes, you may even take a couple more bags just because they're free, and you can store them at home for another use. Plastic bags are used at stores across the U.S., but that's slowly changing.
A movement to ban plastic bags in select cities and towns has grown, and now the most populous state in the U.S. has voted to instate a statewide ban on plastic bags.
In late 2016, California banned single-use plastic bags, with other states, such as Massachusetts and New York, considering their own similar actions. To acknowledge and highlight this growing trend, we put together a few of the most commonly asked questions (and answers) about the California bag ban:
What is SB 270?
Answer: The Senate Bill No. 270, signed into law by Calif. Governor Jerry Brown in 2014, is a bill that prohibits single-use carryout bags statewide in stores that have a specified amount of sales in dollars or retail floor space. It required stores to charge shoppers 10 cents for a paper bag starting January 2015.
This bill aims to raise awareness of the environmental damage plastic bags can cause and encourage sustainability through the use of reusable bags.
What is Proposition 67?
Answer: Following the success of SB 270, several large manufacturing companies decided to fight back because they believed SB 270 would negatively impact their businesses. They financed a trade group called the American Progressive Bag Alliance (APBA) and submitted more than 500,000 signatures to get the referendum Proposition 67 on the ballot in Nov. 2016, asking voters to decide whether to uphold or reject SB 270.
APBA's objective was to overturn the law or, at the very least, buy time to sell more plastic products. The measure failed in the Nov. 2016 election, and SB 270 is in effect as originally planned.
That means from now on, if you go grocery shopping in California, the grocery store is not allowed to package your purchases in any single-use shopping bags, no matter if it is made of plastic, aluminum, rubber, or another fabric that is one-time use.
How did the California bag ban come about?
Answer: California has a long history of fighting against environmental pollution due to the overconsumption of plastic bags. Statistics show that California throws away more than 120,000 tons of plastic bags each year. The sheer amount of plastic has negatively impacted the Pacific Ocean while also endangering marine animals like sea turtles and fish.
In 2007, San Francisco became the first city to ban non-compostable bags from supermarkets and chain pharmacies. In 2012 and 2013, the ban expanded to other restaurants and stores, with other cities following suit. Although there are alliances that stood in the way of some counties' bag bans, California has been a leader in the major reformation on bag bans for years.
In January 2014, Los Angeles became the largest city in the country to ban plastic bags. One-third of California communities had already implemented bag bans before the statewide bag ban took effect.
If you want to view a more detailed list of how counties and cities in California strategize their local ordinances, you can click here.
What are the benefits of SB 270?
Answer: From an environmental standpoint, proponents say the bag ban is an essential step toward reducing litter in the ocean and will positively affect protecting the ocean's ecosystem overall.
Most scientific research points out that a plastic bag will take 500 or even 1000 years to decompose. Still, in most scenarios, plastic bags will never decompose, which is highly detrimental to the planet.
SB 270 also solves general problems like unclogging storm drains and protecting marine species, but more importantly, encourages residents to adopt an environmental-friendly way of living for the long run.
With more and more people across the nation starting to realize the benefits of using biodegradable products and reusable canvas bags, it's a growing trend to go reusable and recyclable. In addition, legislators and policy-makers from other states can also take SB 270 as an example when considering their own bag ban approach.
What other states and cities have bag bans in place?
Answer: Apart from California, Hawaii also took a step forward in banning non-biodegradable bags; in 2015, all the counties in Hawaii approved a bag ban.
Chicago, Cambridge, Mass., Austin, and Seattle were among the first cities in the U.S. to ban single-use bags. States like Maine, New York, Illinois, and Delaware also passed legislation requesting retailers establish recycling programs.
A complete list of state legislations on bag bans can be found here.
How will the ban impact businesses?
Answer: With the new regulation kicking in, retailers will likely see an increasing demand for reusable and recycled bags. One of the problems facing retailers is simply keeping reusable bags in stock. Many retailers underestimated the need for such bags. Customers who no longer use plastic bags may immediately consider sturdy and reusable bags offered by retailers, thus creating the need for different reusable bags.
That being said, retailers of all sizes small should start researching ways to provide reusable shopping bags made of recycled material to their customers.
How can Factory Direct Promos help?
Answer: In a previous post, we discussed the bag ban in Puerto Rico's impact on both retailers and consumers. In the wake of the recent laws and regulations leading towards a more environmentally-friendly mindset in daily life, we offer a variety of reusable and recyclable products.
We are proud to be approved as a certified reusable bag producer by the California Government. Certified Reusable Bags 
You can get in touch with us today to learn more about reusable bags that can be customized to your preferences.
Tagged