What Are Recycled Bags Made Of?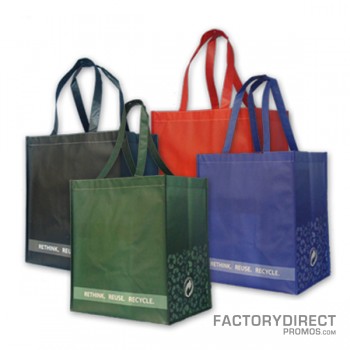 Finding the Right Reusable Bag for Your Brand
From promoting your brand to helping the planet, there are a lot of benefits of recycled bags. A common question is what are these reusable bags from? We decided to take a closer look at recycled bags to get to the bottom of things and help you better understand how custom reusable bags can work for your brand.
Understanding the Types of Recycled Bags
Recycled bags are made from different forms of recycled plastic. There are many forms, including woven or non woven polypropylene. Knowing the difference between woven or non woven polypropylene bags is crucial when in the process of making a purchase. Both of these materials are similar and known for their durability, but they differ when it comes to the manufacturing process.
Non woven polypropylene is made by bonding together recycled plastic fibers. Woven polypropylene is made when threads made from recycled plastic are woven together to create a fabric. Both materials are durable. Non woven polypropylene is less expensive and displays full-color printing in more detail. Otherwise, both materials make excellent reusable recycled bags.
The Drawbacks of Disposable Plastic Bags
The major benefit of recycled bags is that they reduces the need and use of disposable plastic bags. Single-use bags are made from nonrenewable resources and are likely to end up as litter or in a landfill.
The low recycling rate makes single-use plastic bags a drain of resources, and when they end up as litter they are a very real threat to animals and their habitats. Reusable bags, especially reusable recycled bags, counter all of these negatives.
Marketing Your Business With Recycled Bags Makes Sense
According to the Promotional Products Association International (PPAI), promotional products were ranked highest by consumers across all generations as the most effective advertising vehicle. A staggering 85 percent of consumers look for promotional products that are functional and useful. Recycled bags fit into the busy lifestyle of active consumers, and are an eco-friendly marketing success story.
Find the best reusable bags for your marketing then fill out a quote request. After more than 20 years as a leader in manufacturing reusable bags, we know how to make the ordering process easy and cost effective.
Tagged