7 Benefits of the Materials Used to Create Recycled Grocery Bags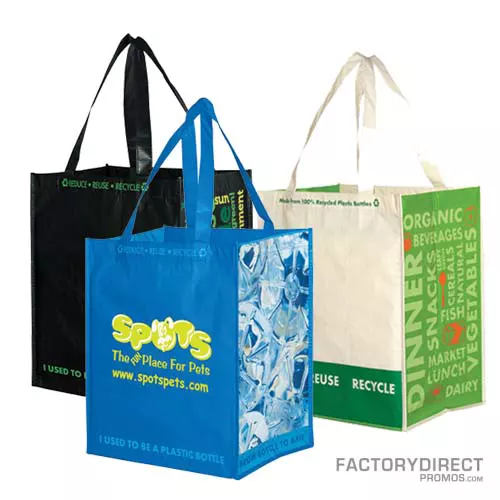 Recycled Grocery Bags Offer More Benefits Than What Meets the Eye!
With each use, recycled grocery bags give back. From a business owner's point of view, adopting a green initiative can be beneficial for marketing purposes. From a consumer's perspective, using recycled grocery bags that have either been purchased or obtained as a giveaway creates a bond with the business that produced these eco-friendly products.
Promoting an eco-conscious initiative can go a long way for building brand awareness in your industry. According to an Edelman 2016 Earned Brand Study, customers look to brands to kick start social movements that can be rallied behind.
Plastic is far more harmful to the world around us than it is useful in day-to-day life. The harsh reality is that once it is created, it will always exist. Because of this, finding another use for recycled plastic is the logical countermeasure. By taking this step, single-use bags can be kept off the streets and out of our oceans.
Recycled grocery bags are durable and eco-friendly, but the benefits offered by the materials that go into making them might require a deeper explanation.
Here are 7 benefits that the materials used to make recycled grocery bags can provide.
Water Resistance


Laminated bags, which are made of recycled plastic-based fabrics, are water-resistant. This is a useful feature for a bag that could be tasked with containing small spills during their lifespan.

Repurpose Plastic Bottles


Every time a plastic bottle doesn't find its way into an ocean, landfill, or anywhere else it could harm the environment, the earth becomes a safer, cleaner place. With recycled plastic based bags such as our recycled polyethylene terephthalate (RPET) bags, the use of single-use plastic bags can be limited and plastic bottles can serve a new purpose.

Reusable and Dependable


With recycled grocery bags, a one-time payment earns the user years and years of dependable use. These bags can be an effective marketing tool for the duration of their life.

Perfect for Advertising

Laminated bags are made from one of the following materials:

Woven polypropylene
Non-woven polypropylene
RPET

These bags can be printed all over in full color and topped with a glossy or matte lamination.

Conserve Natural Resources


Reusing materials that are potentially harmful to the environment is beneficial to everybody involved. Single-use plastic bags need petroleum to be made. By committing to recycled grocery bags, the petroleum that would be needed for single-use bags can be conserved and used elsewhere.

Make Plastic Work for You


Plastic isn't worthless. The issue rests in the fact that so many plastic products are intended for a single-use, and soon they find themselves in a position to harm the environment rather than continuing to be of use in daily life. The used plastic bottles you might see kicking around on the street would be better served making up a small percentage of a recycled grocery bag. By committing to recycled grocery bags, plastic products of the past have the opportunity to find a new purpose.

When They Wear Down, Just Recycle Them


After a few years of getting consistent use from your recycled grocery bag the handles might start to wear out, or the bag might start to show a point of weakness. Have no fear, you can return it to the recycling process and start over with a new bag.
Final Thoughts
Being aware of the various benefits that recycled grocery bags provide can go a long way in maximizing your investment and transitioning to become an eco-friendly business. The different options we offer for materials are as dependable and versatile as the rest of our products.
Contact us today to learn about the variety of recycled grocery bags we offer.
Tagged