Custom Trade Show Bags Wholesale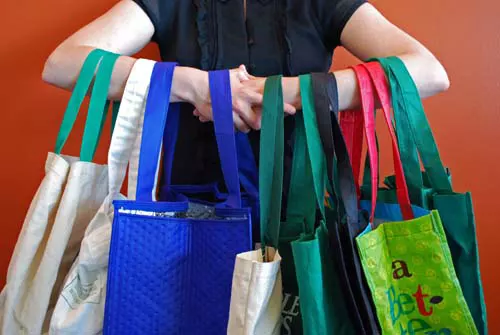 Get Custom Trade Show Bags at Wholesale Pricing!
Buying custom trade show bags at wholesale is a great way to garner interest in your brand and get them at the lowest price possible. Even if you are not a reseller, custom trade show bags at wholesale pricing is a great deal and we can offer it to you. Creating your very own custom bag for trade shows gives you the ability to create a bag that really represents your brand and functions very well for your customers. The more function your custom trade show bag has, the more often your customers will use it, which means the more exposure they will give your brand. Designing your custom trade show bag can seem like a challenge, but it really isn't. We've simplified the process, so in four simple steps we can help you design your custom trade show bag, so you can start getting the word out about your company.
Choose Your Size and Material
These first two decisions are the big ones, so we get them out of the way first. A lot of factors dictate the size of your bag. A trade show bag will definitely be used during your trade show, so it needs to be useful during the event. People get a lot of stuff at trade shows. People are given catalogs, business cards, brochures and other handouts, so there is certainly a need for reusable bags at a trade show.
The great thing about promoting your brand with a reusable bag, is that your customers can continue to use your custom bag after the trade show ends. Select the size, so your roomy custom trade show bag can hang in there are a reusable grocery bag for the long term. We've rounded up some of the more common sizes for you to select from, but you can go with a custom size if you wish. We offer several different materials that you can choose from, such as rPET, woven and non-woven polypropylene, and cotton or jute canvas. All of these materials offer durability, so you can count on your custom trade show bag to hang in there and deliver long lasting results.
Choose Your Bag Color and Add Ons
We have a wide selection of bag colors to choose from, so you can easily find a match to your corporate colors. You also need to determine the details. Select the handle type and length, the trim options and material finish. Do you want a closure, like a snap or zipper? Do you want interior or exterior pockets? Just let us know what you have in mind and we can make it happen.
Let Us Know About You
This last part is easy. Let us know who you are and how we can get in touch with you. We also need to know how many bags you're interested in ordering. If you have any other modifications or specifications to your custom trade show bag design, or even questions, add them to the comments section. By breaking down the design process into easy to follow steps we can help you create custom trade show bags that will increase your brand's awareness and recognition. If you have other comments or questions please get in touch and we can help you out!
Tagged