How Many Plastic Bags Are Saved by Marketing with Reusable Bags?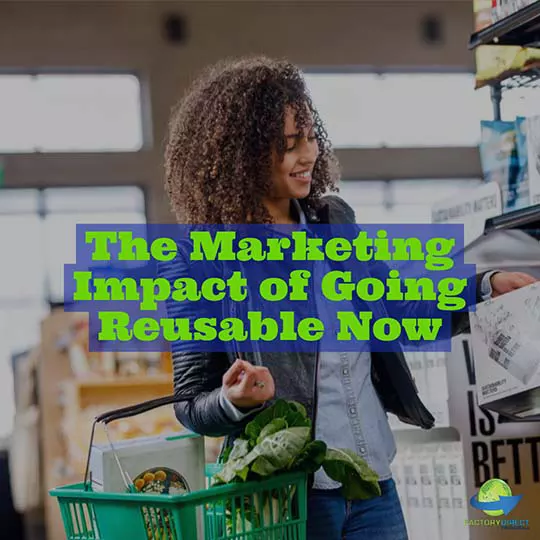 What Can Your Business Do to Help the Planet
Earlier, we looked into the impact a single person can have when they ditch single-use plastic bags in favor of reusable bags. The numbers are staggering, but one person can make a difference. The stakes are high too. Single-use plastic bags can cause a lot of damage, so the more bags out there as litter, the bigger the problems.
However, while individuals can make a difference by using reusable bags, businesses can too!
Making a Difference Through Marketing
Marketing is necessary to grow your business and hold your place in your industry. Clearly, you want your marketing to promote your brand, but it's important to make sure there are no negative drawbacks to your outreach.
Companies can make a great impact when choosing to market with reusable bags. Your business is effectively spreading your marketing message while reducing the need and use of single-use plastic bags. This enables your business to make a difference to the planet and her people, while also helping your customers do the same.
Analyzing the Metrics
Each of the companies that we work with that creates and hands out just 1,500 reusable bags (our minimum for our most beautiful and custom full-color bags) for marketing in one year, saves 750,000 single-use plastic bags.
Companies that we work with that hand out 2,500 bags in one-year help save 1.25 million single-use plastic bags from entering into our food chain and killing wildlife and sea life.
Some companies that we work with order hundreds of thousands of bags from us. When we receive an order for 50,000 custom bags, that means 25 million single-use plastic bags won't be used and discarded as a potential threat to our way of life.
It is mind-blowing what our customers are doing to help their prospects and customers help the planet. By reducing their use of single-use plastic bags, companies that choose to market with reusable bags are not only committed to making a difference, but they actually are.
Even the companies that work with us and create just 250 reusable bags to hand out, will remove a whopping 125,000 single-use plastic bags from the pollution stream!
Let's Work Together to Help YOUR Business Make a Difference!
It is important to maintain a consistent message with your marketing, represent your brand effectively and spread your message – while also aligning to any established green goals and objectives.
Marketing with custom reusable bags lets you do all of these things in an easy and cost-effective way. Furthermore, not only can your business have a positive impact on the environment, but custom reusable bags make it possible for your customers to do their part and go green, too.
We are dedicated to helping our customers and promoting sustainability. We're so serious, we've earned several honors and distinctions, including GOTS, Fairtrade, ISO 9001-2015, and FEDEX. And we have been helping clients design one-of-a-kind reusable bags for marketing and retail use for almost 30 years.
Let's work together to design your very own custom reusable bags to promote your business and reduce the impacts of single-use plastic bags and litter. Feel free to browse our selection, design your own bag, or contact us today. We are here to help.
Tagged