Businesses Make Your Mark with Eco-Friendly Pens!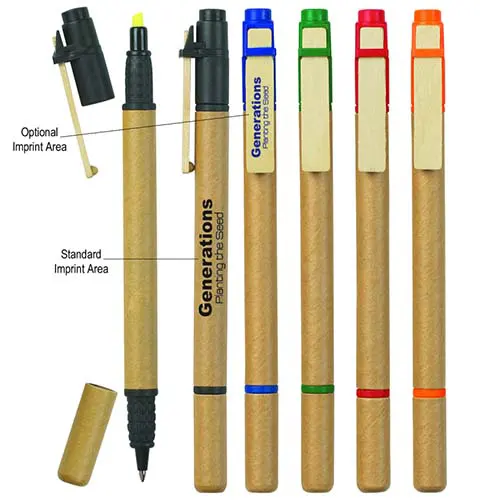 Customized Eco-Friendly Pens Work to Market Your Brand!
Customized eco-friendly pens are a great and handy way to get your brand noticed. Pens are a tried and true marketing tool. Everyone has a need and use for pens, so it is a promotional item that is sure to get lots of use. The more your custom branded pens are used the more exposure your brand receives. Selecting customized eco-friendly pens helps reduce the environmental impact of your brand and your customers, while still being very effective promotional items.
Custom Eco-Friendly Pens Make a Statement
Custom pens do not afford a lot of space to make a lengthy statement. Due to the space constraints, you need to stick to the basics like your company name and maybe your phone number and a web address. Use this item as a way to propel customers to learn more about you brand by directing them to a web page where they can learn more about you. Selecting pens made from environmentally friendly materials, such as recycled plastic, paper, or even bamboo make it easy to spread your brand's message while minimizing your brand's eco impact.
Get Your Message Seen
One of the traits that make pens such an effective marketing tool is their usefulness. Even in the digital age, pens are just plan handy. People always have a need to write things down and jot a quick note. When your customers and potential customers do this with one of your branded pens they will be reminded of your brand and the products or services you provide.
Create Something That Speaks to Your Brand
We have a wide selection of eco-friendly pens available. Choose the style and materials that you prefer and start to customize from there. Select the color of the pen barrel and the color of the ink used to print your info on the pen.
Sometimes determining the quantity to order can be tricky. When in doubt we suggest ordering high, because the more custom pens you get into your customer's hands the more exposure you'll brand will receive. Also, the high the quantity you order the lower the price per pen. This seems counterintuitive, but the amount of set up work is about the same whether you order 500 pens or 10,000 pens, so the more you order the more pens the setup expense is spread out across.
Let's Do This
Are you ready to make your mark with customized eco pens? Let us know HERE if you have questions about any of our eco-friendly custom pens, the process, or if you need a quote. Our dedicated team would love to help and can answer whatever questions you have about our pens and the customization process.
Tagged