3 Reasons Wholesale Custom Bags Could Be a Good Marketing Investment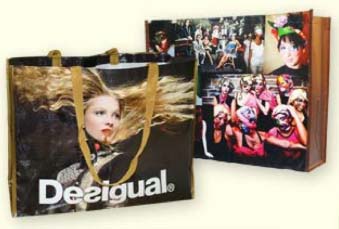 Add More Utility to Your Marketing Strategy with Wholesale Custom Bags!
A strong marketing investment isn't something that has a cut and dry definition. It all depends on your key performance indicators (KPIs) and overall organizational goals.
If the investment in question is a promotional product, there's a variety of questions that must be answered. For starters, are you investing in a product that lasts? When is the investment going to show a return and how will the return be quantified? How does it make your company look in both the near and distant future?
With wholesale custom bags, you're investing in a product that has staying power. They will provide value to customers while your company plays their part in providing an alternative to single-use plastic bags that have a hand in crippling our environment. All of this is possible, while also increasing your company's visibility. What's not to like?
Let's look at 3 reasons why wholesale custom bags could be a solid marketing investment.
A Useful Product That has a Long Shelf Life Never Loses Its Value


Wholesale custom bags are reliable, useful, and sturdy. Once obtained and handed out to prospective customers, they will have the potential to limit the reliance on single-use plastic bags, all while promoting your company and carrying out (literally) your message.

While promotional products such as pens, lanyards, and so on might equal the initial thrill that a reusable bag evokes, they don't carry the same potential for longevity as well as daily use. A reliable product will reflect positively on your company. The positive experience coupled with the fact that, with proper care, reusable bags can last for years, increases the chances that your marketing investment will be returned during the bags lifespan. To ensure the bags you invest in will stand the test of time, check to see if the vendor carries certifications from third-party durability testing organizations.

Reliable Products Can Become a Potential Conversation Starter in Day-To-Day Life


Once your custom bag is in the hands of prospective customers, its effectiveness as a marketing tool will be determined by how useful it is to the customer. The more use they get out of your promotional product, the more visibility your company will gain. A benefit of using wholesale custom bags as a marketing tool is the conversation continues even when your only representation is the bag.

Perhaps it's a discussion had between a store clerk and the customer who has been putting your branded reusable bag to use. Or, it could take place on the walk home when an acquaintance notices you've gone with an environmentally-friendly option. Interactions like these can make the investment more than worth it.

Begin the Dive Into Green Marketing


Protecting the planet is paramount, and phasing out single-use plastic bags can be a big help. Building a green marketing strategy that includes custom reusable bags is inherently marketable, as well as environmentally responsible.

In order to dive into the world of green marketing, your company must be fully committed. Starting with products as accessible and simple as wholesale custom bags is an effective way to begin establishing your company as one that keeps the environment in mind. The work doesn't end here, it will only be beginning.
Final Thoughts
When searching for a promotional product to make an investment in, look no further than reusable custom bags. The environmental benefits, affordability and increased visibility make them the obvious choice for a company that hopes to leave a lasting impression with potential customers.
Contact us today to learn about reusable custom bags we offer that can wow the audience at your next event.
Tagged