Bags Wholesale Priced For Your Budget & Built To Last to Build Your Business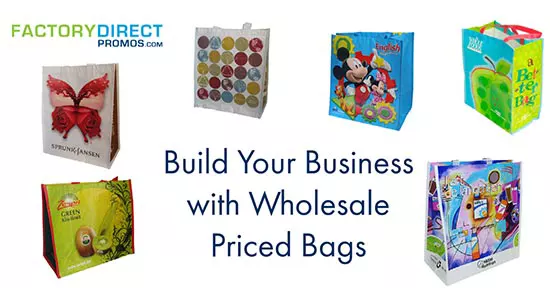 Find Out How Easy It Is to Design Your Own Reusable Bags!
Custom reusable bags are a great way to promote your business. But many marketers have no idea that custom reusable bags are also a very cost-effective marketing strategy – especially when taking advantage of wholesale pricing.
Buy reusable shopping bags wholesale priced with the quality you need to give your business great ROI for years to come!
Find out how certified reusable bags, wholesale pricing, and simple ordering options make it easy to build your business with reusable bags.
Built to Last
Many of our bags are certified reusable bags, which means they have been approved by CalRecycle and are designed to last.
Certified reusable means your customers can count on these bags to hold up and you can count on these bags to effectively promote your brand.
In order for a bag design to become certified, the following criteria must be met:
A handle must be part of the design.
The bag must be able to accommodate a minimum of 125 uses.
The volume of the bag must be at least 15 liters or about four gallons.
The bag must be washable, either by machine and/or hand cleaning
The manufacturer's name, country of origin, certified status, and recycling instructions if applicable must be printed on the bag or printed on a tag adhered to the bag.
Our Own Factory
We own our factory, which allows us to greatly streamline the process to save time and money. We pass these savings along to our customers. Owning our own factory also allows us to offer multiple ways to order, so you can place an order in a way the best fits your needs.
Our in-stock selection of reusable bags are ready to go and just need to be customized with your branding information. Our in-stock options allows for a quick turnaround and are ideal if you need a low quantity.
When you order from our custom or bulk selection, your reusable bags will be made to order. This allows for a greater level of customization and it also helps bring the price per bag down, so you can secure a low wholesale price for a completely unique and custom design.
Utilizing custom or bulk ordering means planning must be made for longer lead times than with our in-stock options. 
Safe for the Planet
Our reusable bags are eco-friendly because they eliminate the need and use of single-use plastic bags.
Disposable plastic bags are seldom recycled and very likely to end up as litter, which can have a very damaging impact on the environment and costly to municipalities.
Our reusable bags are also made from recycled or sustainable content, making them safe for the planet.
Good for Your Brand
Promotional products make such good marketing items because people will see your branding message for years to come.
As your customers use your branded bags they will become more familiar with your branding message, but they will also display and endorse your brand as they go about their day.
We Are Here to Help
If you are looking for bags wholesale priced for your retail business or your service-based industry, we have what you need and quantities from 250 up to millions.
We hold ISO certification and we are dedicated to helping the planet and our customers.
We are proud of all of our customers and the work we have done for them, but some of our customers include American Express, Bank of America, Carnival Cruise Lines, Pepsi, The Home Depot, Whole Foods, and more.
We have been helping our customers for just over 10 years and our parent company has been around since 1924. We have staying power and a wealth of experience you can trust and are looking for.
Shop our full line of bags wholesale priced to build your brand without breaking the bank!
Tagged