England Leaves United States in the Dust with Bag Fee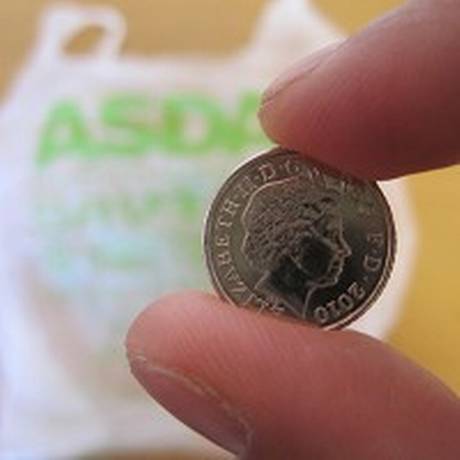 England Implements Fee on Disposable Plastic Bags
Last week we told you about how the EU is considering a bag ban and now comes word that England passed a law that will levy a fee (roughly 8 cents USD) on all disposable plastic bags given out at stores. This fee is slated to go into action in the fall of 2015 and all of the money raised by the fee will go towards charities working on environmental damage cleanup.
It is hoped that this measure will encourage shoppers to bring their own reusable shopping bags instead of paying the fee for a disposable bag. This move will not only greatly reduce the amount of single-use plastic bags put into circulation, but it will also align England more with policies throughout the rest of the UK.
History of Reducing Disposable Plastic Bags in the United Kingdom
Wales imposed a 5p single-use plastic bag tax in October of 2011 and within the first year, disposable plastic bag use was reduced by 96 percent and hundreds of thousands of dollars were raised for charities. Not only did this fee greatly reduce the amount of single-use plastic bags given out at stores, but it also helped to finance cleanup efforts, so plastic bag litter could be cleaned up.
The success of this program in Wales got Scotland and Northern Ireland thinking about the plastic litter that was becoming commonplace in their respective countries and whether such a fee could work for them. The Scottish government launched its own 5p fee on single-use plastic bags in 2012 with the goal of reducing plastic bag trash and Northern Ireland followed suit on April 8, 2013, when they put a 5p bag fee in place. Both countries have had tremendous success with these fees – shoppers have adjusted nicely to bringing their own reusable grocery bags and the litter problem is being managed and cleaned up.
CHECK OUT OUR INTERACTIVE BAG BAN MAP TO LEARN MORE ABOUT BAG BANS THROUGHOUT THE WORLD
Disposable Bag Reduction Not Entirely New to England
Based on the results in Scotland, Wales, and Northern Ireland, it seems very likely that this fee will have a massive impact in terms of single-use plastic bag reduction. However, many cities and towns throughout England started to do their part to reduce plastic bag use years ago either through fines or simply local stores banding together and deciding not to purchase and hand out single-use plastic bags. Since this new law will blanket the entire country it will most certainly have a larger influence.
We are very happy to add England to our bag ban map and we look forward to the impact this fee will have on single-use plastic bag consumption and the model that the United Kingdom will now serve for the rest of the world.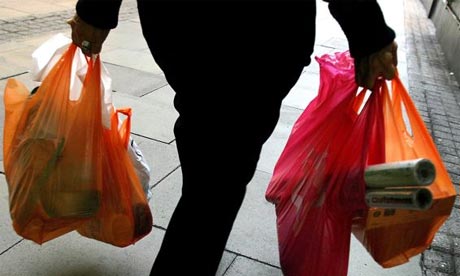 If you would like more information on how your business can go green with reusable bags, please check out our selection of reusable bags and eco-friendly promotional products, fill out a product quote request, or contact us form today.
Reference
http://www.heraldscotland.com/news/home-news/scots-shoppers-to-be-hit-by-5p-plastic-bag-tax.17957307
http://www.dailymail.co.uk/news/article-2168985/Proof-plastic-bag-tax-works-Welsh-levy-seen-bags-given-away-fall-96.html
http://www.theguardian.com/environment/2013/sep/14/shoppers-england-5p-charge-plastic-bags
Photos
www.standard.co.uk (England fee)
www.theguardian.com (plastic bags)