Are Reusable Bags REALLY Good for Marketing and the Planet?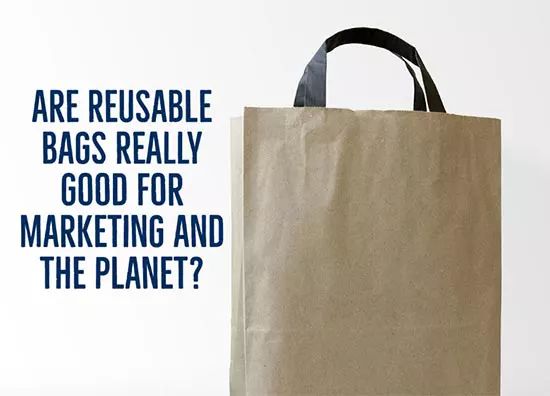 Find Out How Reusable Bags Can Pull Double Duty!
Promotional marketing can be tough. You need something that clearly and effectively gets the word out about your brand, but you also need to consider the impact the product will have on the planet. An item that your customers connect with but has a negative influence on the environment can end up sending the wrong message.
There are benefits to marketing with reusable bags. These benefits extend to both your brand and the planet.
Here's what you need to know about why reusable bags are really good for marketing and the planet.
Marketing Benefits
Reusable bags are very visible and will position your branding message in front of both customers and potential customers.
The more people see your brand, the more familiar they will become with your message, and the more likely they will turn to your business when they need the products or services you provide.
Make the Most of Your Marketing Budget
Reusable items are designed to be used again and again, which means your marketing message is routinely on display.
Reusable bags provide an amazing return on investment, or ROI because one bag can deliver thousands of impressions.
When you select any of our certified reusable bags you can be confident that your custom bag will last under repeated use all while promoting your business.
Another way to stretch your marketing budget is by purchasing in bulk. We offer custom or bulk ordering which allows for almost limitless customization options while also providing a lower unit price. If you're on a tight timeline, we also offer in-stock ordering which allows for a quicker turnaround.
Good for the Planet
We have talked before about how marketing with recyclable bags is good for the planet. Reusable bags reduce the use and damaging impacts of disposable plastic bags while also conserving resources.
When it comes to reusable bags, your brand has so many options besides reusable shopping bags.
Other reusable bags are also great for the planet.
Cooler bags can be used to protect frozen items on the trip home from the store, but they also help keep take-out warm for food delivery services.
Reusable wine bags make it safe and easy to carry multiple bottles at once and leave a lasting impression.
Go Green
Plastic is bad for the planet and consumers are more likely to do business with brands that have an eco mission. Selecting reusable bags for your next promotional item not only provides your customers with a convenient reusable bag but also shows your customers that you are serious about going green.
Promote Your Brand in an Eco-Friendly Way
Between our experience and that of our parent company, we have over 100 years of combined experience, which means we have the knowledge and staying power and we are a brand you can trust to help your business grow. We also hold ISO certification to further demonstrate our commitment to our customers.
We make the process easy to customize your reusable bags so you can get started reaping the benefits of great ROI.
Market with reusable bags and the planet will thank you!
Tagged