Must See Cyber Sale for Your Business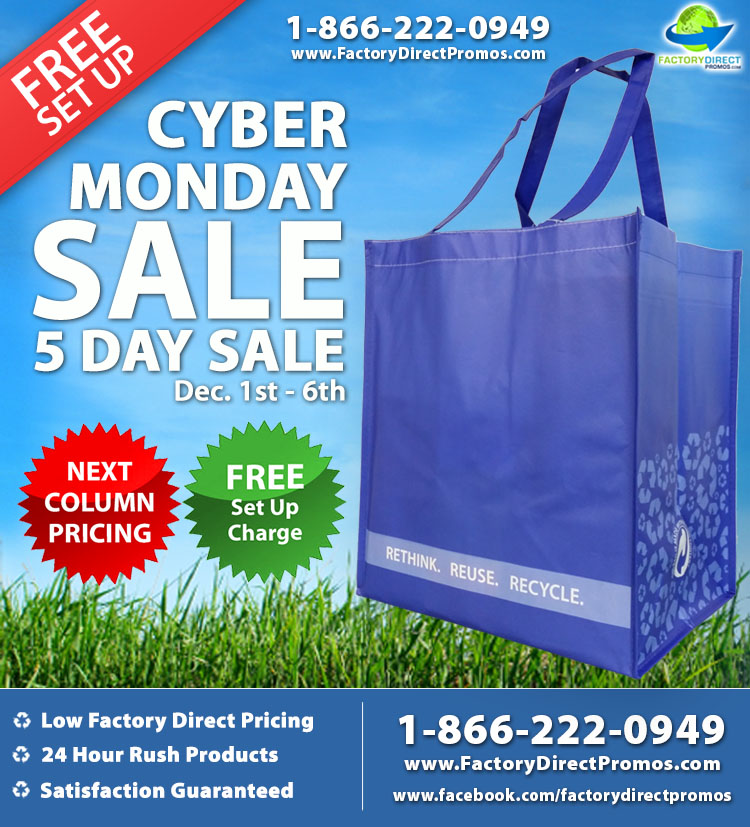 Take Advantage of Factory Direct Promos Cyber Monday 5 Day Sale!
Kick off your Cyber holiday shopping and enjoy next column pricing and free setup when you place a order for Reusable Tsunami Bags with us December 2nd through December 6th. This Cyber deal is only available for a limited time so if you've been thinking about creating your brand's custom reusable bag, now is the time to act.  We are offering our newest and most popular, eco-friendly reusable bag with this unheard of Cyber Deal.
This Cyber Deal Means Low Factory Direct Pricing PLUS Next Column Pricing and NO SET UP FEES on Our Reusable Tsunami Bag
Our prices are low to start with because we work directly with our factory which means no middle man, but our Cyber Monday Sale on our Reusable Tsunami Bag offers you even more savings. Pay no set up fees AND get next column pricing…if you need 250, get the lower price for 500…if you need 5000, get the lower price for 10,000. It's an unheard of deal for your business. Now is the time to take advantage and get your name out there on this eco-friendly bag that will offer great ROI and market for your brand for 3-5 years.
Usually There Are Set Up Fees and Column Pricing But Until December 6th, We Are Tossing Those Rules Out the Window On One of Our Most Popular Reusable Bags!
Our Tsunami Bag is 13″ x 10″ x 15″ and comes in Black, Forest Green, Red, Royal Blue, and Tan.  A 1 color, 1 location imprint included and it is made from laminated recycled material which makes it a fantastic reusable bag – you get the eco-friendly qualities of a recycled fabric and the function of the laminated cloth. The lamination process gives the material some extra durability and makes it water-resistant which is a great quality for a reusable shopping bag.
As with all of our bags, full customization is available. If you are designing a reusable shopping bag, comfortable handles and durable laminated material are key features. Adjust the design to make your reusable bag function in the best way possible. The more handy and convenient your reusable bag is, the more your customers will use it and the more folks carry your branded tsunami bag, the more familiar they will become with your brand and the more exposure they'll give your company.
Satisfaction Guaranteed
Our company was founded on quality and we stand behind all of our products. We promise you that we will deliver a well-made quality promotional item that will be to your exact specifications and will hang in there use after use and continue to spread your branding message for years to come. Our dedicated and highly trained staff is ready to help you get started and work through the design and production process.
Get in touch if you have questions about this sale or a specific product or the process or really anything and we'd love to help you! We can be reached at 1-866-222-0949 or contact us via email here.
This Cyber Sale on our Tsunami Reusable Bag is a limited time offer! Place your order between December 2nd and December 6th to take advantage of next column pricing and free setup HERE!
Tagged