5 Ways to Reduce Your Carbon Footprint This Holiday Season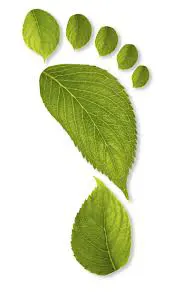 Looking for Ways to Go Green This Holiday? Here are 5 Ways to Reduce Your Carbon Footprint This Holiday
It's pretty easy to work green changes into your regular day-to-day life but with all of the extra planning and errands and hubbub, the holidays can make it tough to stick to your green goals and standards. Here are five ways to work green changes into holiday planning so you can celebrate the season and stay true to your environmental aims.
Send FSC Certified or Digital Holiday Cheer – If you send cards to friends and family make sure the cards you send are FSC certified. FSC stands for Forest Stewardship Council and this organization ensures wood and paper products are produced in a sustainable manner. Better yet – look for cards that are not made from tree fiber, there are a lot of options out there like our seed cards or cards made from cotton or bamboo, both of which are sustainable and biodegradable. If you want to spread holiday cheer, but you don't want to deal with different paper types and certifications – go digital! Send an email or customize an electronic card to let your friends and loved ones know you are thinking about them this holiday season.
Use Reusable Bags to Wrap Gifts – Instead of using paper or a disposable gift bag to package your gifts place items in reusable bags. Your recipients will be left with a little something extra that they can use again and again and there will be less trash thrown in the garbage. If you receive gifts wrapped in paper or in disposable gift bags make sure to dispose of the paper responsibly and recycle it.
Use Energy-Efficient Decorations – A string of the old style large bulb lights use 175 watts of power while a strand of LED large bulb lights will use only 2 watts when turned on for the same amount of time. LED lights burn just as bright and last longer than older style bulbs for added incentive to make the switch. Decorating with more efficient lights is a better use of resources and can add up to a financial savings.
Get a Live Tree – Look into getting a live tree with a root ball. After the holidays (and when the ground thaws depending on where you live) you can plant the tree. A live tree will continue to convert carbon dioxide (also known as greenhouse gas) into oxygen and increase the air quality in your home and by planting the tree it will live on long after the holidays are over.
Travel Green When Possible – Between trips to the mall and gatherings it is easy to rack up the miles during the holiday season. Plan your trips to group together excursions to nearby stores and carpool as much as possible. Also try to organize your trips – make a shopping list and don't run out to the store just because you need one or two items, wait until you need several items before heading out. You can also buy carbon offsets to offset your holiday travel.
Use These Easy Steps to Stay on the Path to Green This Holiday
You work hard throughout the year to limit your environmental impact so don't let the holidays throw you off course. Even if you're able to work just one of these eco tips into your holiday routine, you will reduce your carbon footprint and still have an enjoyable holiday season. How do you limit your carbon footprint during the holidays?
Tagged