Custom Trade Show Bags at a Great Eco-Special Price!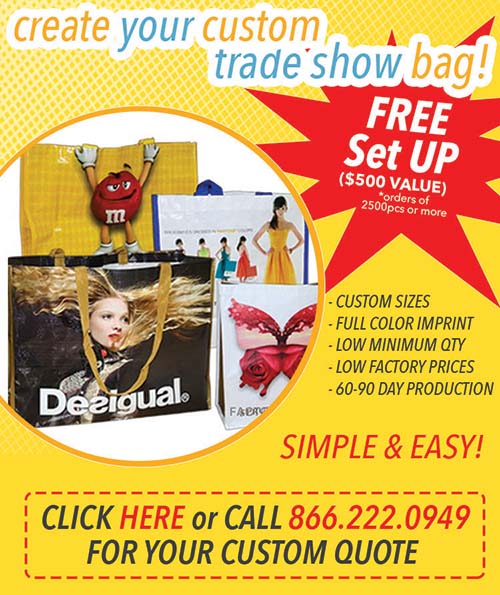 Buy Custom Trade Show Bags at a Great Eco-Special Price!
If your business wants to create custom trade show bags at a great price, you may want to check out our latest eco special! For a limited time, we're offering free setup on orders of 2,500 or more – that's a $500 value. This makes an already great value even better. To learn more about what custom reusable bags can do for your brand, or to find out about our bags and our factory keep reading.
The Value of Marketing with Custom Reusable Bags
Custom reusable bags make great trade show takeaways, because people have a need for a bag as they walk a trade show and pick up catalogs, business cards, and more items. When you hand out a customized reusable bag at an event like a trade show people will put your branding message on display as they walk the show. This will increase your brand's presence at the show and help drive other people to visit your booth.
Another great thing about marketing your brand at a trade show with reusable bags is that the bags are still incredibly useful after the trade show is over, so your customers can keep using your custom bag and spreading your marketing message. Since reusable bags are made from recycled or sustainable materials, and they eliminate the need for single-use bags they also help the planet and allow your brand to uphold your company's eco goals.
Create Custom Reusable Trade Show Bags to Represent Your Brand
When we say you can customize your custom trade show bags, that is exactly what we mean. We have a selection of recycled fabrics that offer durability and are eco friendly. Choose the size that is the best fit. You can also adjust the handle length, add pocket or a headphone port, or anything else that builds function and usefulness into your reusable bags.
What will really make your bag stand out is the full-color printing. The ability to print in a variety of colors on all external surfaces of your bag means you can make a statement that your customers and potential customers will see. Include your logo, web address and other contact info, like your social media handles. We can help you create a bag that represents your brand and leaves an impression with your customers.
Working with Our Team
At Factory Direct Promos, we work directly with our factory. This direct relationship means we can deliver quality reusable bags built to your exact specifications, without the hassle and expense of adding any middle men along the way.
We can turn around custom trade show bag orders in 60-90 days.
Custom reusable bags are a proven effective marketing tool that deliver a great value and increase your brand's awareness and recognition. Let us show you how!
Get My Eco-Special Quote Now on Custom Trade Show Bags!
Grab this deal before it is gone!
Tagged