What Is The Alternative to Styrofoam Food Containers for Restaurants?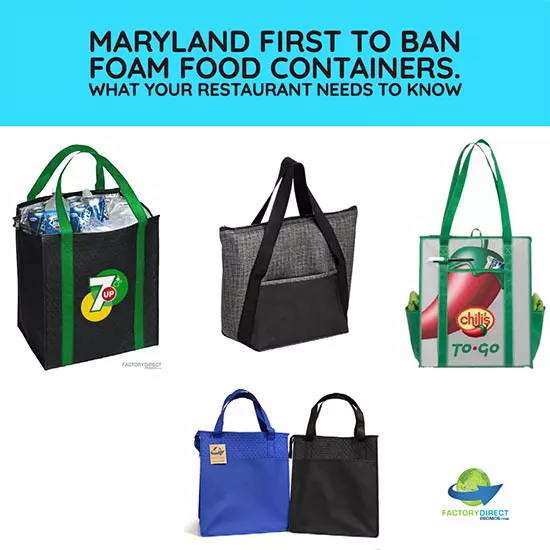 Find Out How to Keep Your Business Moving Forward While Going Green Without Styrofoam Food Containers
Big changes are coming to restaurants in Maryland and those changes may spread to other states. We already discussed that Maryland was the first to ban foam food containers, better known as Styrofoam.
Now we want to talk about the best alternative to foam food containers for restaurants to keep cold food cold and hot food hot.
The Problems with Styrofoam
Styrofoam is bad for the planet because it has low recycling rates and is likely to end up in landfills or as litter.
Like all non-biodegradable trash, it poses a risk to animals and their habitats.
The lack of recycling also means the resources used to make Styrofoam are lost to the manufacturing industry.
While Maryland is the first state to ban Styrofoam, this movement will probably be like plastic bag bans and move across the country. This is good news for the planet, but it means restaurants all over need to be prepared for the change.
Here are alternative ways for restaurants to keep their food hot or cold for delivery.
Create Your Own Custom Containers
There are various types of eco-friendly food containers and our sister brand can help by creating custom branded eco-friendly food containers for restaurants.
These containers will make it safe and easy to carry take-out or leftovers, while also featuring your branding message and reminding your patrons of your business.
Improved Delivery
Obviously actual food containers are necessary and helpful.
Our sister brand can easily help create customized, logo'd, eco-friendly food containers for restaurants.
Still, those types of packages can use all the help they can without the insulating and cooling properties of Styrofoam.
That is where our alternative to Styrofoam for restaurant delivery can help.
We offer recycled cooler bags and custom cooler bags, both of which are great for food delivery.
These spacious bags make easy work of carrying multiple containers while the insulating material will help maintain food and drinks at the ideal temperature.
Food will arrive at your customer's door warm (or cold, depending on the dish).
All of our color bags can also be customized with your branding information, so these bags end up working like mobile signs or mini billboards.
Your branding message will receive more exposure and your customers will receive delicious food that is ready to eat.
Make Sure Your Business is Ready
Efforts to reduce the use of single-use plastics are becoming more common.
New bans whether it be on plastic bags or now Styrofoam are quickly spreading all throughout the United States.
We can help your restaurant continue to serve your customers while using safe and effective alternatives to foam food containers.
Taking steps now will ensure any future bans will not be an issue for you. Using less single-use plastic and going green can also help your business stand out while possibly endearing your business to customers.
Let's Go Green
We have been helping our clients create custom eco-friendly reusable bags that reduce the use of single-use, disposable plastic bags for over a decade.
We are ISO certified as well as passionate and experienced in this regard and we want to help your business get ahead of any potential bans in your city or state.
Contact Factory Direct Promos for your personalized quote on the best alternative to Styrofoam food containers.
Tagged