Alaskan Retailers and Consumers React to Plastic Bag Bans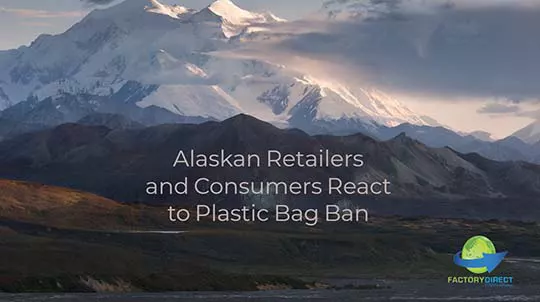 Wasilla Ban Became Effective on July 1
Plastic bag bans are becoming more common in Alaska, with Wasilla recently enacting a ban. This ban is about a week in, and many retailers and consumers are surprised as just how easy this transition has been. As shoppers make the switch to reusable bags, many brands will find the value of Customized Reusable Bags to help their customers adjust to plastic bag bans and help promote their business.
Fair Warning
In Wasilla, the city sent signs for retailers to display in their stores, indicating when the plastic bag ban would go into action. Many feel this ample warning helped shoppers adjust to the change. As Wasilla Fred Meyer Assistant Store Manager, Brenda Landers explained, "Honestly because we put up the signs that the city sent out really early, it was really surprising how our customers were like, 'okay that's a change,' and seemed to be, like, no big deal."
Creating a Habit
Some Wasilla shoppers have expressed frustration with the need to remember to bring their reusable grocery bags when they head to the store. This is to be expected, since bringing bags is a change in habit. It takes time to form a habit to remember your reusable bags,, but once that habit in place shoppers will simply go about their new normal routines.
Good Company in the Last Frontier State
Residents in Soldotna and Palmer will go through the same process of forming new habits on November 1, 2018, and January 1, 2019, respectively, when their disposable plastic bag bans go into action. Plastic bag bans are already in place in Kodiak, Hooper Bay and Bethel.
Homer, Alaska passed a plastic bag ban that became effective on January 1, 2013. After public disagreement, the matter went on a ballot in order to let residents make the decision, and 10 months after the ban was implemented, voters overturned the ordinance. Many residents used reusable bags before the ban was overturned, and have continued to do so without the ban in place. The issue at hand for many Homer residents was they felt the local government was pushing the ban on the community necessarily.
The Role of Customized Reusable Bags
Reusable shopping bags are able to fill the need created by disposable plastic bag bans. The durable construction allows shoppers to use these bags repeatedly, so they have a functional bag that is easy on the environment. Reusable bags present a unique space for companies to establish awareness and generate interest in their brand.
Customized reusable bags help to promote a brand's marketing message, so every time a shopper carries the branded bag they will spread that brand's message. Customized reusable bags are a highly visible promotional product that deliver an amazing return on investment.
Learn More About the Bag Ban Movement
More and more cities are looking into plastic bag bans as a way to combat unsightly and damaging litter. Learn more about plastic bag bans by reviewing our map. This interactive map tracks efforts, both successful and unsuccessful, to implement ordinances around reducing the use of single-use plastic bags.
Tagged