First South American Country Ratifies Plastic Bag Ban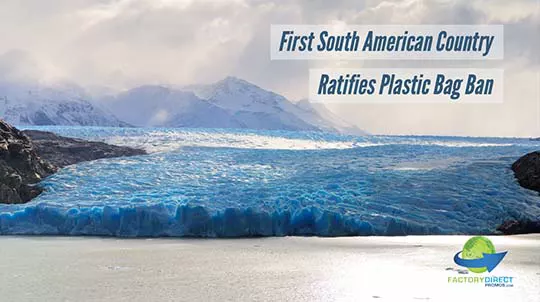 First South American Plastic Bag Ban to Roll Out in as Early as Six Months
Despite some last minute uncertainty, Chile became the first country in all of South America to pass a single-use plastic bag ban. This ban will help to significantly reduce litter while also creating an increased demand for Customized Reusable Bags. Find out about the drama that almost ended Chile's ban before it even started, and learn more about customized reusable bags and the bag ban movement.
Details of Chile's Plastic Bag Ban
Chilean President Michelle Bachelet first proposed the nation-wide plastic bag ban in September of 2017. Congress passed the ban on June 1, after which the Association of Industrial Plastics appealed the proposal on the grounds that the ban was unconstitutional.
The constitutional court rejected this claim and ratified the Bill. The ban will go into action six months after the Chilean president enacts the law. Marcela Cubillos, the Environment Minister, stated, "We are very pleased with the court's decision, it was the last stage for the enactment of this law."
Bag Ban Movement Taking Root in Americas
Chile's plastic bag ban marks the first time a South American country has passed a nation-wide ban. Although, Chile's bag ban is no surprise, given that efforts have been made to reduce the use of disposable plastic bags going back to 2014 when the government banned bags in Chilean Patagonia.
The plastic bag ban movement is gaining momentum throughout South America, as Columbia and Ecuador have both made efforts to reduce the use of disposable plastic bags. In Central America, Panama announced a plastic bag ban this past January. While the Caribbean islands of Antigua and Barbuda became the first country in the Americas to ban single-use plastic bags in 2016.
What is Fueling Plastic Bag Bans in South America?
The negative environmental impact is the motivation behind many disposable plastic bag bans, and Chile is no exception. These bags are great for a limited time when they are used to carry goods home from the store, but they often end up as litter and damage ecosystems and pose major risks to animals. The threat is particularly real in marine environments, like Chile which boasts almost 4,000 miles of coastline.
Benefits of Customized Reusable Bags
With single-use bags no longer available, a need is created for reusable bags. These durable bags can be used in place of disposable bags and given normal wear and tear will often last for several years. The reusable qualities that make these bags so useful for shoppers, also make them excellent promotional products. Brands can customize the look of reusable bags to increase the awareness about their brand and get their message in front of a wider audience in an organic way.
Stay in the Know
Never miss a plastic bag ban related update or one of our amazing eco special when you sign up for our newsletter. If you want to learn more about the current state of the plastic bag ban movement, visit our plastic bag ban map. We track which governments have banned plastic bags or implemented fees, as well as which municipalities have attempted, but failed to pass such measures. This tool provides an interesting view of the movement while still providing specific details for each location.
Tagged