YouTubers! Get Wholesale Reusable Bags and Merch for Your Fans HERE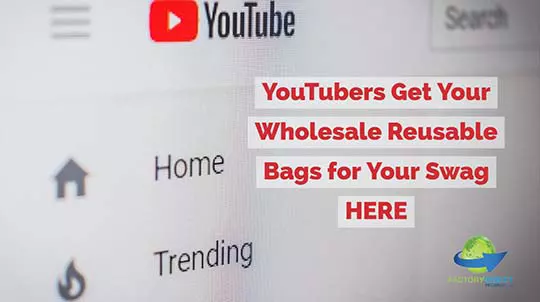 Promote Your YouTube Channel Using Eco-Friendly Promotional Merchandise
Give your YouTube subscribers a way to show their support and love for you and your channel by selling customized merch with your logo! We create awesome eco-friendly wholesale reusable bags and eco-promotional products and we will make it fast and easy for you. Learn more about the types of eco-friendly promotional products we have available and how custom swag can benefit your channel.
Wholesale Reusable Bags and More
From shopping bags and eco-friendly totes, to drawstring backpacks, insulated cooler bags, messenger bags and more, we offer a wide selection of wholesale reusable bags. Some bags serve a very specific purpose, like coolers or wine totes.  Others have more flexible uses. We can help you design the perfect style of bag that you think will best appeal to your customers. We have even helped a client create an avocado bag!
In addition to eco-friendly tote bags, we have an entire lineup of reusable and eco-friendly gear. Take your pick from water bottles, coffee mugs and tumblers to notepads, pens and eco-friendly lanyards.
The Benefits of Custom Swag
Your fans will be excited to get their hands on your custom merch and show their love for your channel. When your customers use your branded gear, they will essentially advertise your channel. This type of grassroots marketing can introduce your channel to a wider audience and grow your subscriber list.
Staying Power
Reusable items are built to last, which is part of what makes them eco-friendly, but this trait also makes for great promotional products. The longer your custom swag hangs in there, the more exposure it will give your channel.
Wholesale reusable bags typically last for up to six years, while reusable water bottles and beverage containers can potentially last for decades. During that time your customized products will serve as a constant reminder of your brand and deliver a ton of impressions.
Eco-Friendly
Eco-friendly promotional merchandise sends the message that your channel and brand support environmental causes and shows that you do your part to not contribute to environmental harm. Reusable products are eco-friendly partly due to the reusable design. By eliminating the need and use of single-use or disposable products, reusable gear is green.
In some instances, the materials help establish the eco qualities of the promotional gear. For custom wholesale bags, materials that are sustainable, like cotton, jute and even bamboo, or materials that are made from recycled content, like woven and non woven polypropylene are all green options.
Completely Customizable
When we say our products can be customized, we mean it. If you want to print your logo on one of our existing products, we can do that. Just send us your artwork, select the product and we can take it from there.
If you want to alter the design of any of our products or design something completely new, we can do that, too. For example, if you want, you can change the handle length, add pockets or a headphone port to any of our reusable bags.
You can design something completely custom that nobody else has. The more function you build into your wholesale reusable bags the more your subscribers will want to use it, and the more exposure they will give your channel.
Wholesale Pricing
As our name implies, we work directly with our factory. This direct factory relationship is what allows us to offer such a high level of customization. This relationship also means we are able to streamline the process to save money, and we pass this cost savings along to our customers.
Ordering large quantities is another way to secure a low price per item, and lock in an even better deal on your wholesale promotional product order.
Let's Make This Happen
At Factory Direct Promos, we have been helping our customers create custom eco-friendly promotional products for decades. Find out how wholesale reusable bags and other types of eco-friendly merch can help promote your YouTube channel.
Contact Factory Direct Promos with your questions about any of our products, the process or if you would like to request a sample!
Tagged