Reusable Bag Materials: What Are Your Options?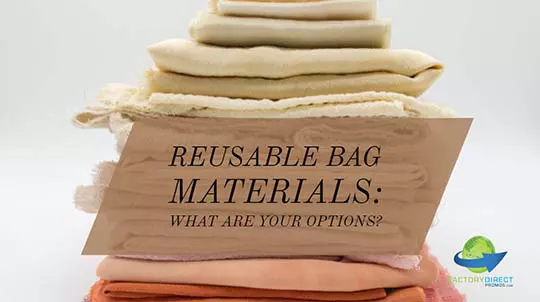 Understanding Your Options
Making the decision to promote your brand with custom reusable bags is eco-friendly and a solid marketing investment that will continue to pay out for many years. In order to make the most effective reusable bags for marketing, you also need to choose the right materials for your project. In this two-part series we look at the different reusable bag materials available and how to best use them. Here is a breakdown of the different reusable bag materials to help you understand your options.
Material Options
All of the reusable bag materials we provide are eco-friendly. If your objective is to create a marketing item that aligns with your Brand's green goals, all of the following options will tick that box. The raw materials and structure differ, and this gives each material different strengths.
Woven Polypropylene
Woven polypropylene is made using post-industrial recycled plastic that is stretched into threads. These threads are then woven together in a similar method to the way traditional fabrics are woven. Woven polypropylene has a textured surface and makes for a very strong material.
Non-Woven Polypropylene
Non-woven polypropylene bags are also made from post-industrial recycled plastic fibers. However, in this instance, the fibers of the material are bonded together. The resulting material is soft, durable and holds up nicely under demanding use. Non-woven polypropylene delivers many of the same traits as woven polypropylene, but it is less expensive.
RPET
RPET is an abbreviation for recycled polyethylene terephthalate. Polyethylene terephthalate, or just PET, is one of the most common types of plastic used. PET is typically used to make water bottles or food containers and receives the #1 recycling code. When PET is recycled, it becomes RPET and can be used to make thread, which is then made into a durable and eco-friendly fabric.
Cotton Canvas
Cotton is a natural plant that is grown, harvested and processed into threads which are woven into a fabric. Cotton canvas is durable and soft. As a natural fiber, cotton has an eco-friendly look.
Natural Jute
Jute is another sustainable option for reusable bag materials. Natural jute has a very textured look and feel with the individual threads clearly visible. This material is biodegradable for added convenience and is very cost effective, allowing it to fit into most budgets.
Learn More
Find out more about the reusable bag materials available to help zero in on the best material for your custom reusable bags. Contact Factory Direct Promos if you have questions or want to learn more.
Be sure to come back next week to learn how to choose the best material when creating your own custom bags.
Tagged