10 Tidbits to Keep Your Career Heading In The Right Direction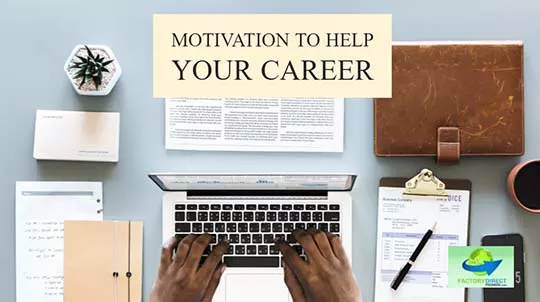 Motivation to Help Your Career
Sometimes everything comes together and just clicks and you feel confident in your career. Other times, nothing seems to be working and you may be left questioning your judgement. Self-doubt is normal and something everyone has to deal with, but finding the right motivation can make all the difference. When you have a moment of doubt, here are 10 quotes to keep your career heading in the right direction.
1. "Your work is going to fill a large part of your life, and the only way to be truly satisfied is to do what you believe is great work. And the only way to do great work is to love what you do.If you haven't found it yet, keep looking. Don't settle." – Steve Jobs
Steve Jobs continually took risks that defined his career and led to increased opportunities. As the chairman, CEO and a co-founder of Apple, Jobs left his mark within the computer industry, as well as in the everyday lives of many people. Finding work you truly enjoy is certainly a challenge, but refusing to settle until you find that ideal job can pay substantial dividends.
2. "We work to become, not acquire." – Elbert Hubbard
Elbert Hubbard was a 19-century American writer, publisher, artist and philosopher. Hubbard understood hard work is not about acquiring possessions, but rather it is a way to become the person you wish to be.
3. "Your ability to discipline yourself to set clear goals, and then to work toward them every day, will do more to guarantee your success than any other single factor." – Brian Tracy
As a motivational speaker with over 70 self-help books to his credit, Brian Tracy understands how to achieve success. He also understands how to help others reach their goals. Discipline and hard work are common themes in the success stories of many individuals.
4. "If you care about what you do and work hard at it, there isn't anything you can't do if you want to." – Jim Henson
Jim Henson is most well-known as the puppeteer behind the Muppets, but he was also an artist, cartoonist, inventor, screenwriter and filmmaker. Henson continues on the theme of finding a job you are passionate about.
5. "Inspiration usually comes during work rather than before it." – Madeleine L'Engle
Madeleine L'Engle is an author, perhaps best known for the young adult fiction classic, A Wrinkle in Time. Finding motivation to keep working can be a challenge, but L'Engle makes an excellent point about inspiration striking during work. You need to be immersed and engaged in the work at hand to figure out better solutions and applications and take your project to the next level.
6. "Without ambition one starts nothing. Without work one finishes nothing. The prize will not be sent to you. You have to win it." – Ralph Waldo Emerson
As an essayist, lecturer, philosopher and poet, Emerson largely defined the way Americans think and view themselves and the world. Nothing comes easy and ambition and work are how you reach the pinnacle and keep your career heading in the right direction.
7. "I'd rather be a failure at something I love than a success at something I hate." – George Burns
George Burns was a comedian, actor, singer, and writer. What is exceptional about his career is he got his start in vaudeville and managed to maintain his success through radio, film and television. Success in a field you hate can only end up making you miserable. Again, it is so important to find the right career path.
8. "No work is insignificant. All labor that uplifts humanity has dignity and importance and should be undertaken with painstaking excellence." – Martin Luther King Jr.
As a civil rights leader, Martin Luther King Jr. was a wealth of inspiration and motivation. Taking pride in the work you do ensures you will do your best work to benefit not only yourself and your career, but to also help everyone around you.
9. "Work isn't to make money; you work to justify life." – Marc Chagall
Marc Chagall was an early modernist artist who created works in various artistic styles using diverse formats. You certainly support yourself through work, but work is a way to bring meaning to your life and use your unique skills and talents to create something bigger than yourself.
10. "All things are difficult before they are easy." – Thomas Fuller
Thomas Fuller was a 17th-century English author and historian. His words about things being difficult before they get easy still ring true today. When your work is difficult it can be tempting to bail. By simply seeing things through you can gain skill and insight that will make the tasks before you much easier.
Find Your Motivation
Sometimes it can be hard to stay motivated and keep moving forward in your career. We hope these quotes added a little happiness to your workday. Are there any inspiring quotes that help you stay motivated and take care of business? Let us know!