Eco-Special on Reusable Bags Makes Now the Best Time to Go Green with Your Marketing
Thinking About Greening Your Marketing? There Has Never Been a Better Time Than Now
For a limited time you can score a great deal on our Custom Fast Track Bags. These reusable bags can be used to effectively market your brand as a takeaway for your next trade show, as corporate gifts, for use in  retail sales, and so much more.
The Details
When you place an order on any of our custom Fast Track Bags between now and the end of the month, you will get a free set up (a $50 value) and enjoy full color imprints on all sides of the bag – this applies to all varieties of our Fast Track Bags – the reusable shopping bag style and the full color drawstring style.
What's even more is that these bags are also available with low minimums quantities of 250 pieces. Usually you get the best deal by purchasing large quantities, but sometimes you don't need 1,000+ bags; sometimes 250 or 300 are all you need, and with this special you can easily get the quantity you need and secure a great price.
Custom Reusable Bags Spread Awareness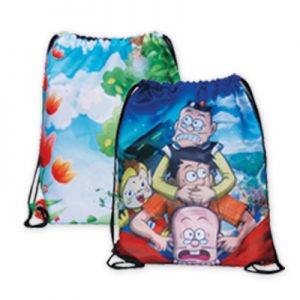 Reusable bags are fantastic marketing tools simply by being reusable – every time your customers carry your branded reusable bag they will further acquaint themselves with your marketing message, but they will also showcase your brand to their friends, family, coworkers and everyone who seems them carrying your branded reusable bag.
Reusable bags are typically hot-ticket items at trade shows and they also make great gifts. We pride ourselves on the quality of our reusable bags which normally deliver years of dependable use, so no matter how you go about getting your customized reusable bags into your customer's hands, your bags will get plenty of use and get the word out about your brand for years – this is a great return on your investment.
Create Bags That Complement Your Brand
There is value in printing your logo on a reusable bag, but full-color printing on all sides of a bag takes things to the next level and allows you to put your branding info on display while also giving you the ability to create
a bag that fits your company and blends into your larger branding. If you supply the PMS numbers we can even print your reusable bags to match your corporate colors so you can rest assured that your custom reusable bag will match the rest of your branding.
Consistent colors and stunning graphics will create reusable bags with a high-end look that grabs the attention of those who see it and either introduces or reinforces your brand.
As Always, Let Us Know if You Have Questions
This eco-special makes now the best time to go green with your marketing for a great return on your marketing spend. Our super talented team is at the ready in case you have questions – just get in touch HERE and we'd love to help.
Tagged