Eco-Friendly Bags, Ethical Consumerism, Saving Cash and Life Hacks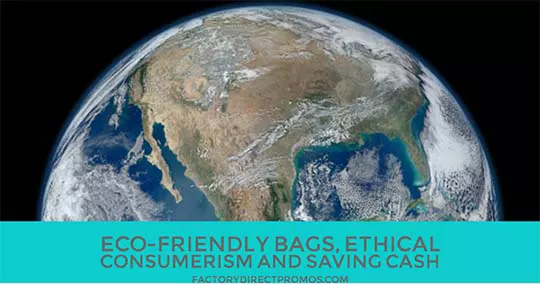 Thank You, IdeaHacks.com, for Sharing the Benefits of Eco-Friendly Bags!
I am totally into life hacks and anything that can make my busy life more manageable. How about you? I love it when the hack involves saving money and living a more conscious life. So you can imagine how happy I was that one of our articles on eco-friendly bags was shared on IdeaHacks.com!
The site is stocked full of ideas on how to live naturally and simply. They are certainly worth a follow on one of their social sites. You will pick up some great eco-tips and ideas.
The IdeaHacks.com article, 10 Easy Ways To Be An Ethical Consumer Without Breaking The Bank, was about much more than eco-friendly bags. It was about hacking life to become an ethical consumer and saving cash simultaneously. Right up my alley, and, I would bet, yours as well?
I loved it so much I put together the highlights below.
Saving The World and Some Cash with Ethical Consumerism and Eco-Friendly Bags
Often, people think about how their purchases impact their lives, and with good reason. The products you buy do have a direct impact on your life and the lives of your family and loved ones. Have you considered how your purchasing decisions impact others? Like the employees at the company that produced the product. Or the employees at the store that sells the goods? As a consumer, you have the power to make decisions that guide businesses.
You Can Make a Difference
There are lots of ways to make an impact. By being informed, you can make decisions that not only benefit you but can also help workers and help clean up the planet. Some businesses feel consumers do not care about ethics or care more about a good deal. That isn't true.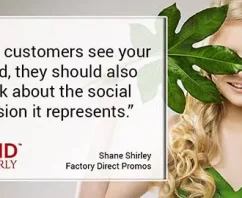 When you choose to purchase products from ethical brands, or rather, not purchase items from unethical brands, you are making a statement. You reinforce the steps taken by ethical brands while also showing the unethical brands that their decisions matter.
Going Green Can Save You Money
There are lots of ways ethical consumerism can save you cash. When you repurpose existing items, you can save money by not buying new ones. When you shop local, you can often score a better deal because local vendors do not have the overhead expenses that bigger businesses have, so they can keep their prices low. Some retailers even offer a discount to shoppers who bring their reusable eco-friendly bags. The discounts may be small, but they can add up over time.
Make an Ethical Choice at Home and Work with Eco-Friendly Bags
Ethical consumerism extends beyond the walls of your home and into every aspect of purchasing you encounter at work. We help marketers, retailers, and trade show planners buy ethically and market effectively with eco-friendly bags. Our factory-direct model means savings for you, and you can be assured that our commitment to the environment is as strong as our commitment to quality.
Our ethical and socially compliant production system ensures that the workers are never denied their fundamental rights. Our certifications such as GOTS, Fairtrade, ISO 9001, and FEDEX are testimony of our strong quality and social commitment.
Feel free to request our complete idea catalog or reach out to us directly with any questions you may have about marketing with eco-friendly bags.
Tagged