How to Choose The Right Fabric for Your Trade Show Bags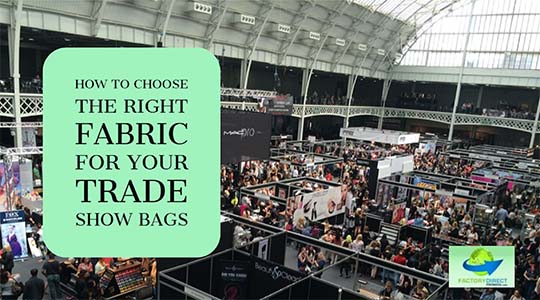 Help is Here for You to Choose The Right Fabric for Your Trade Show Bags
You decided you want to promote your brand with trade show bags, but now you may be unsure where to start. Choosing the right fabric for your custom reusable trade show bags can be a challenge, but things don't have to be that way. We can help you determine the best material for your trade show bags to create effective promotional products that will spread your marketing message for many years to come.
The Right Material for the Job
Sometimes choosing the material for your trade show bags is simple. The function of the bag may make it easy to choose the right fabric If you want to create a specialized bag you may need to go with a specific material. For instance, if you create cooler bags you need to choose an insulated material that can keep cold items chilled or hot items warm.
For most other styles of bags you can select any material you want, so consider the look and style of the bag and how it will represent your brand. Sustainable fibers, like cotton, bamboo or jute have a more natural appearance and this look may complement your brand, depending on your image. The smooth finish of polypropylene fabrics are versatile and create a blank surface to display your marketing message.
Durability
All of the materials we have available are durable, so you can expect your trade show bags to last for several dependable years. If you want custom trade show bags that will hang in there for a long time and provide a high level of durability consider woven or nonwoven polypropylene. Understanding the difference between woven and nonwoven polypropylene is easy. Both of these materials are very similar and they make long lasting trade show bags.
Eco-Friendly Traits
All of the fabrics we use for our custom trade show bags are good for the planet. The durable construction and reusable nature of our trade show bags make them eco-friendly, because they eliminate the need of single-use bags.
The material used to manufacture the fabrics also contribute to the eco-friendly qualities. Natural fibers are sustainable and biodegradable for a reduced environmental impact. Recycled content, like woven and nonwoven polypropylene, put existing plastic materials back to good use, and the bags can be recycled when the time comes.
Custom Trade Show Bags
Customized trade show bags are effective promotional tools that spread your branding message. The fabric you choose for your reusable bags can aid in the function or create a specific look, so consider these traits when selecting a fabric.
Contact Factory Direct Promos with any further questions or fill out a quote request today for any of our trade show bags. You can also request samples if you want to touch and feel any of the fabrics to get a better idea of the right fabric for your trade show bags.
Tagged