3 Ways Trade Show Bags Show Their Value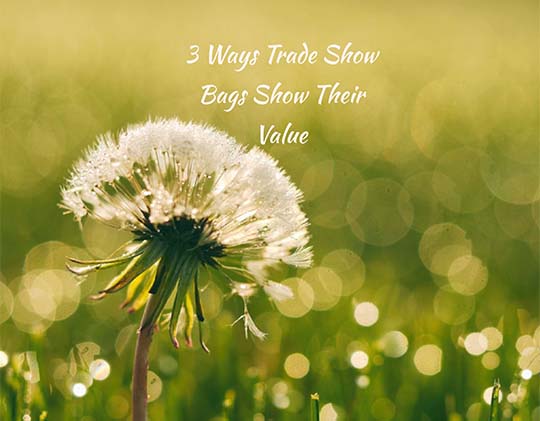 Get the Most Bang for Your Marketing Buck
Trade show bags are a great value and allow your brand to get the most from your marketing budget. Reusable bags deliver such a great value by being effective promotional products and your customers and prospects will be excited to get their hands on yours. The more your custom reusable bags are used, the more exposure and awareness they will create for your brand. Here are three ways trade show bags show their value.
Make Walking Billboards out of Your Customers and Prospects

Trade show bags are always on the job. At a trade show as your customers and prospects carry your custom branded bag, they will enjoy the function and usefulness of your bag. This will start to lay the groundwork of a good rapport or reinforce an established relationship between your brand and your customers and prospects.

Another perk of trade show bags is that they function a lot like a sign. As people carry your custom bags they will essentially be carrying a sign to promote your brand. This will increase awareness of your brand at the trade show and within your industry.

Draw Attention to Your Booth

With a little planning and proper promotion, your trade show bags will bring a steady stream of traffic to your booth and open up opportunities for selling. Include your booth number in the artwork printed on your bag. Make sure the numbers are large and easy to read from a distance, so people can easily learn where to find you as they see others carrying your bags.

Get a head start and begin promoting your brand before the start of the trade show. Either in a newsletter or on social media let your subscribers and followers know that if they swing by your booth they can pick up your trade show bags. This will help generate excitement and give people a reason to visit your booth. Once they are there are you talk business.

Generate the Most Ad Impressions

According to the Advertising Specialty Institute (ASI), reusable bags generate more ad impressions than any other advertising vehicle out there. This means that when people see branded trade show bags they internalize the marketing message and engage with the brand. This is pure value for your brand. Trade show bags are effective promotional products that people notice and remember.
Deliver Value Long After a Trade Show
Reusable trade show bags will keep marketing for your brand, long after a trade show is over. The durability of the construction means these custom bags will continue to promote your brand and get out your marketing message for years to come. The longer your customers use your branded promotional bag, the more familiarity they develop for your brand and the more people they expose to your marketing message.
Create Custom Trade Show Bags
From increased and effective exposure to your branding message to driving traffic to your booth trade show bags deliver a whole lot of value to your brand. To get ideas about the different types of bags available check out our online catalog. We have been in the business of creating custom and durable trade show bags for over 20 years. If you want to put trade show bags to work at your next trade show or event contact us to learn how and request a quote!
Tagged