The Best Food Delivery Bag in The Business is HERE!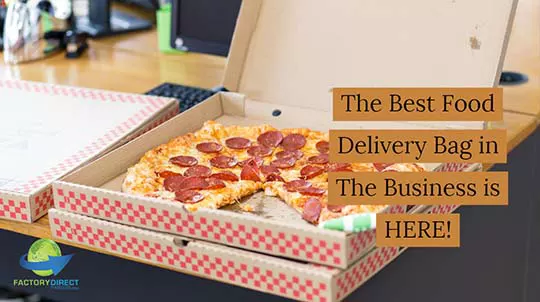 Find Out How The Right Food Delivery Bag Can Help Your Business
More restaurants and third-party services are offering food delivery to fulfill an increased consumer demand. If you own or operate a restaurant it is important that you provide services your customers expect, keep pace with your competitors and expanded the reach of your brand. Find out how a food delivery bag can help improve customer retention, promote your brand and provide a great return on investment.
Analyzing Trends
Experts predict food delivery will continue to increase by as much as 12 percent per year, over the next five years. Despite concerns that offering take-out delivery would cut into dine-in sales, many restaurants still report increased sales after adding take-out and delivery services. About 60 percent of the participating businesses recently surveyed by Technomic, indicated that delivery has increased sales, at least incrementally.
Filling a Need
When customers dine in, you can ensure their order is just right. When food is picked up to go or delivered, you lose some of that control. A high-quality food delivery bag can help you regain that control. An insulated bag will help keep hot items warm or cold items chilled until the order reaches your customer's dinner table.
Insulated Bags for Pick Up or Delivery
Consider stocking up on custom food delivery bags to ensure all take-out orders arrive to your customer's home at the right temperature. You can purchase enough custom food delivery bags to hand out with minimum purchase. For customer pickup orders, you can pack the order inside an insulated food delivery bag and give it to your customers with their purchase. You can even run a promotion in which customers receive a discount if they bring your insulated tote back to pack up future orders.
If you have a team of delivery people on staff, or if you partner with third-party delivery services, you can provide every delivery person with a food delivery bag of their own. This will help ensure customer satisfaction and even make is easier for delivery people to carry orders.
Custom Food Delivery Bag Design
Providing insulated totes is a thoughtful gesture, that will endear your brand to your customers, as well as your staff and even third-party delivery people. You can turn this thoughtfulness and dedication to quality into a marketing strategy that will increase the awareness and recognition of your brand.
Custom reusable bags relay hundreds and possibly thousands of impressions. Your customers will be able to reuse their delivery food bag either when they pick up future take-out orders, or as a grocery bag. The more customers use your branded bag, the more they will become familiar with your restaurant, and the more they will promote your business to people they encounter while carrying the bag.
As your customers use your branded food delivery bag, they may even raise awareness of your take-out business adn your eco-friendly efforts. When delivery people use your branded food delivery bag they will continue to promote your business as they make deliveries.
Start Promoting Your Take-Out Business
Contact us to create your custom food delivery bag design to help increase your profits today. We have been in the business of creating custom reusable bags for almost 30 years, so we have streamlined and simplified the process. We can help you customize any of our in-stock bags, or if you want to get creative and design your very own bag, we can do that, too.
Tagged