Top Trade Show Totes for Your Top Prospects
Trade shows and other events have been postponed as we all work together to flatten the curve, but this is temporary. Eventually, we'll all be getting back to work, and trade shows will be a part of your marketing plan once again very shortly. Now is the time to plan what trade show totes will work best for your brand. Today we are sharing the top trade show totes here at Factory Direct Promos.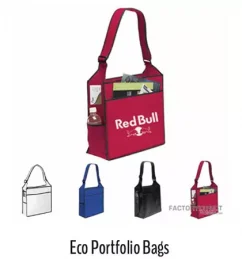 1. Eco Portfolio Bags
These compact tote bags are available in two sizes: 14″W x 12″H x 6″ G or 16″W x 14″H x 6″G. Both sizes are big enough to carry a heavy load without being unnecessarily large and cumbersome. Lots of pockets make it easy for your customers to stay organized and easily find what they need when they need it.

2. Promotional Messenger Bags
Our promotional messenger bags have a classic look and style, but they are also functional and eco-friendly. Contrast accents give these bags a professional look, front pockets create extra storage, and the top flap protects the contents while ensuring items are within easy reach. These tote bags are made from recycled content so that they will align with your brand's green initiatives.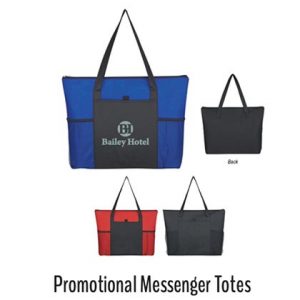 3. Promotional Messenger Totes
The right trade show tote needs to be useful during a business event and continue to be useful after the event has ended. These promotional messenger totes are incredibly versatile for toting around items for work, but they also make a great carry-on, beach tote, gym bag, or overnight bag.
The front and side pockets keep small or commonly used items within hand's reach, and the spacious interior compartment can easily handle most laptops, beach towels, a change of clothes, or whatever your customers need to bring along.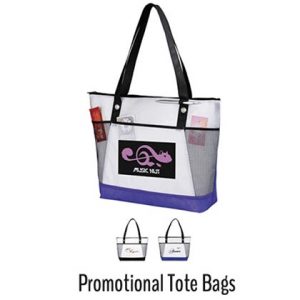 4. Promotional Tote Bags
With a zippered main compartment, this promotional tote bag keeps items secure on the go. Side mesh pockets create space to stash small things but also give the bag some style. The dual handles measure 26″ long and can easily slip onto a shoulder for hands-free carrying.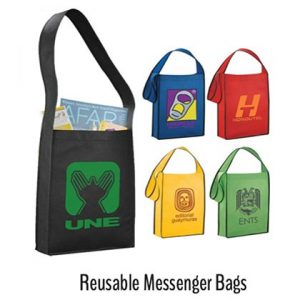 5. Reusable Messenger Bags
Our reusable messenger bags have a tried-and-true design that is sure to make these bags a favorite with your customers. The single shoulder strap is 33″ long, allowing these bags to be worn over a shoulder or cross-body. Recycled content gives these bags an eco-friendly edge, and a variety of colors helps ensure your branding message will stand out.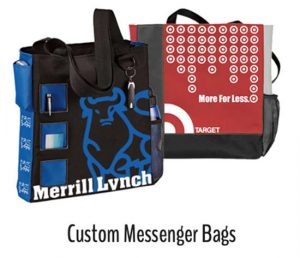 6. Custom Messenger Bags
If nothing else seems just right, then consider our custom messenger bags. These tote bags can be built to your specifications. Select the material, alter the design, and print your branding message and artwork on all sides of the bag in full color. Everything about our custom messenger bags can be customized, so the result will be exactly what you envisioned.
How to Order
Like anything custom, trade show totes take time. You need to design your bag, place your order, and then we need time to create your bags. When you order from our in-stock selection, we generally need 5 – 7 days to fulfill an order. Ordering in-stock bags means you want your artwork printed on an existing bag.
If you order in bulk or create a completely unique design, we'll need 60 – 90 days to fulfill your order. Bulk orders require a minimum of 1,000 pieces, and completely custom orders mean you design your own bag from the ground up or alter the design of an existing bag.
Make the Most of Your Time
We make it easy to order custom trade show totes, but you still need to carve out some time to review your options and select the right bag for your top prospects. We often receive quote requests at the last minute, and people need their bags right away. Taking the time now to design your custom trade show bags will ensure you have your bags ready to go by the time you need them.
Create Your Custom Trade Show Totes
Make sure you are ready to start promoting your business by ordering your very own custom trade show totes right away. Custom bags are an excellent investment that takes some time to design and create, so act now to ensure you'll have your bags in time. We have over 10 years of experience that we use to assist our customers and help at every step of the way. Plus, we are backed with ISO certification.
Shop our top trade show totes and request a custom quote now!
Tagged