Top Promotional Products for Your Brand, Business, or Event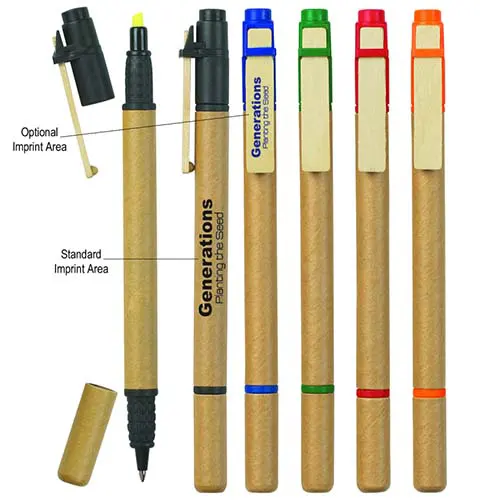 Here Are Some of the Top Promotional Products for Your Brand, Business, or Event
There are so many great and useful products you can customize and use to market your business. Remember when you think about what promotional item to go with, choose something that is handy and convenient. The more useful your custom promotional item is, the more your customers, attendees, and prospects will use it. And the more they use it, the more they will expose your brand to other prospects. If you are wondering what some of the top promotional items are for your brand, business, or event, here are some products that are bound to appeal to your customers and help increase your brand recognition.
Double Ended Barrel Pens
Pens are a traditional promotional tool and the reason this tried and true marketing item is so popular is because it is so effective. Even as computers, tablets and smartphones become more ingrained in our everyday lives, people still have a need for a good pen and our double ended pens are a great option because they provide two pens in one. A pen on one side and a highlighter on the other make this a versatile and very functional writing tool while the recycled and sustainable materials used to construct the pen make it a green way to spread the word about your brand. This particular eco pen also features two imprint areas – on the barrel along with an optional imprint area on the clip, so there is a lot of space to include contact info and a slogan or another piece of branding info.
Custom Collapsible Bottles
Reusable water bottles are an eco-marketing tool that are great for use at work or the gym or really just about any place. Our collapsible bottles are BPA-free which means there are no harmful chemicals and these bottles are safe to drink from even after years and years of use. The unique flexible design can be flattened or rolled, so it will take up minimal space when not in use and this is especially great for storage when space is tight either at home or work or when hiking. With our custom collapsible 25oz bottles you can select the colors and the branding message you print on the bottle to really make it your own and get your marketing message across. For added convenience, think about adding a carabiner clip so your customers can easily attach your branded bottle to a backpack or messenger bag and continue to display your company's message.
Insulated Drawstring Bags
Our insulated drawstring bag takes the comfort and convenience of these popular bags and ups the ante by adding an insulating layer that will keep cold items chilled or warm dishes hot. These reusable bags are great for bringing lunch to work or a picnic or even taking a hot appetizer to a dinner party. Since the bag is designed to be worn your customers can stash water or snacks in the bag and bring it on a bike ride or when hiking, so they can stay hydrated on the go. No matter how your customers use your custom branded insulated grocery tote they will put your branding info on display when they wear the bag and this will help spread awareness of your company.
T-Shirt Folding Totes
Reusable bags are always a hit because they are convenient and while everyone may find different uses for their reusable bags, the key is everyone has a use and a need for reusable bags. Our T-shirt folding totes are especially handy because they fold up into an interior pocket, so when the bag is not in use your customers can easily stash it in the glove compartment of their car or a desk draw at work or even in their purse or work bag, ensuring it is close by when needed. The durable polyester material hangs in there for use over and over again while the comfortable handles make this bag easy to carry. Reusable bags make great promotional products partly due to the large printing area which allows you to use large text and really make your marketing message stand out. Choose the color of the bag and the printing color to make this bag align with your marketing campaign and blend in with your brand.
Check Out the Rest of Our Selection
You know your demographic and what appeals to them and you want to keep this in mind when selecting your promotional materials. Once you've decided on a specific item, put your design skills to work to make it your own. When ordering with us you generally have two options. You can order from our in stock selection for which we have a 250 minimum or you can check out our overseas production. When you work with our overseas factory we have a 1,000 unit minimum, but the perk is you have a lot of options to customize your item and really make it pop. Also remember that if you order larger quantities you can typically secure a lower price per unit so stock up! If you would like a quote or have any questions please get in touch.
Tagged