Retailers Think Outside the Box to Help Local Vendors Thrive and Survive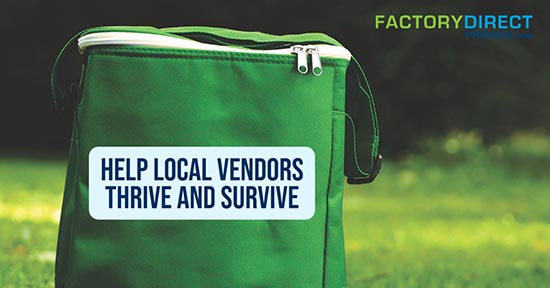 Collaborative Effort Boosts Communities
Good things often result from collaborations. Bringing together different and often diverse organizations can benefit all involved organizations and allow for ingenious and inventive ideas to emerge. This is what Walgreens is attempting with their virtual Localization Summit.
Walgreens wants to make sure that they're evolving in a way that meets the needs of individual communities. So they are bringing together providers in different communities for their various products. This is a great idea that will help Walgreens better serve its customers while also lifting local businesses.
Find out why this is such a great idea and how your business can do some similar out-of-the-box thinking to help other businesses and the communities you serve.
Building Community Support at a Crucial Time
It's important to think outside of the box to increase or just sustain sales in the post-pandemic business atmosphere.
The past year has been hard for everyone, but by working together it is possible to give businesses a much-needed lift.
A retail business can even be a hero and help other businesses to showcase their products to a wider audience.
It doesn't matter if you are a big company or a small retailer, finding new ways to connect with not only your consumers but also your vendors is imperative right now. Walgreen's virtual Localization Summit brings businesses together in a safe and responsible way that can have a tremendous impact on entire communities. You can have your products discovered.
As Kirk Hanselman, Interim Chief Merchandising Officer at Walgreens explained in a statement, "This event allows us to create a more meaningful and localized shopping experience by sourcing products from our customers' neighborhoods that they know and love."
How You Can Help
We think this is a fantastic idea and would add that it would be an excellent opportunity to promote your retail outlet further by sharing your custom reusable shopping bags at these types of events.
Getting your custom bags in the hands of both customers and vendors helps foster a good rapport.
You can grow your business while going green and helping to support other businesses.
Reusable bags are excellent marketing tools, but they're also eco-friendly.
Plastic is bad for the planet, so eliminating single-use plastic is more important than ever. Reusable bags make it easy for your customers to use less plastic while also ensuring people will see your branding message for years to come.
Built to Last
Expand the reach of your marketing message by customizing certified reusable bags.
These bags are designed to strict standards, ensuring they will stand up to regular use. This means your customers can count on these bags (and realize they can do the same with your brand), and you will also make the most of your marketing budget.
We make it easy to design your very own custom reusable bags because we own our factory and because of this not only do we streamline the process, but we also offer two ways to order.
If you need your custom bags right away you can take advantage of our in-stock selection.
If you need a very large quantity or if you want to completely customize the design of your bags then you can use our custom/bulk ordering.
Let's Do This Together
Your retail outlet deserves a break after what you have been through the last year!
If you are looking for bags wholesale priced for your retail outlet, we have what you need and quantities from 250 up to the millions.
Finding ways to work with other brands is a great way to gain exposure while also helping your community.
We are here to help make sure your brand is noticed through the use of custom reusable bags.
We are ISO certified and we have a lot of experience under our belt.
While we've been in business for just over a decade, our parent company has been around since 1924, so we have staying power.
We've also worked with some amazing customers who are leaders in their respective industries, including American Express, Bank of America, Carnival Cruise Lines, Pepsi, The Home Depot, Whole Foods, and more.
Shop our full line of bags wholesale priced to build your retail outlet without breaking the bank!
Tagged