4 Promotional Straws Your Prospects Will Love to Use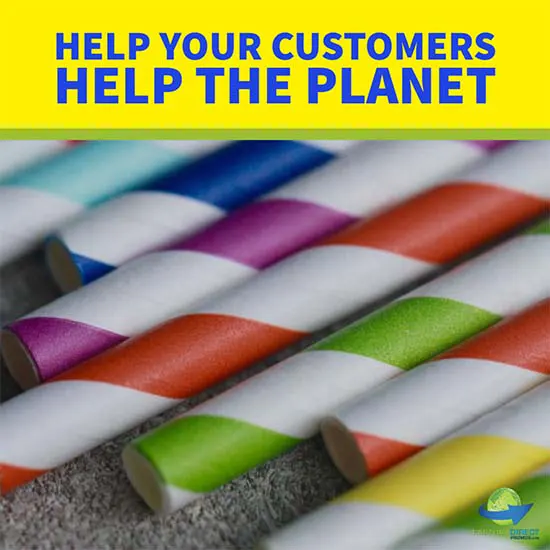 Help Your Customers Help the Planet
Plastic straws never seemed like a big deal until several years ago when a video captured on a smartphone went viral. The footage showed marine biologists removing a plastic straw from the nose of a sea turtle. The video can be hard to watch, but it single-handedly started and solidified a movement. From that day on, consumers and businesses have begun to forgo plastic straws. With single-use plastic out, people are looking for alternatives. Here are four promotional straws your prospects will love that will also market your brand.
The Problem with Single-Use
Straws can be convenient, and after using them for so many years, many people prefer using straws. For people with disabilities, straws may be a necessity. The problem is not with straws exactly, but instead with single-use plastic straws that end up as litter. Reusable straws and straws made from eco-friendly materials are solutions that give people the ability to sip a drink without worrying about harming the planet.
How Your Business Can Help
Promotional products remind customers and prospects about your brand. This constant reminder proves to be an effective marketing tactic. Eco-minded customers will likely appreciate promotional straws because they will understand your business addresses the single-use plastic problem while still providing the convenience of a straw.
As your customers use your gift of promotional straws, they will find themselves more willing to do business with you. Studies show that 42% of consumers have a more favorable opinion of an advertiser if the promotional product they received was environmentally friendly.
Top Promotional Straws
1. Collapsible Stainless Steel Straw Kit
Each 9″ stainless-steel straw features a collapsible design, which enables the straw to fit into a compact case when not in use. The soft silicone tip allows for easy and comfortable sipping. The included wire cleaning brush makes easy work of keeping the straw clean and ready to go and stow inside the straw when not in use. Print your logo and branding info on the case to promote your business.
2. Silicone Straw in Travel Case with Split Ring
Silicone is a soft material that makes excellent straws, particularly for use by children. The straws can bend for comfortable use with both hot and cold drinks. These 10″ straws can be rolled up and fit into an included 2″ travel case. The case features a key ring, so your customers can attach the case to a bag or purse, so they have a reusable straw handy while they're on the go. Select the travel case color and print your branding info on the case to grow your business.
3. Stainless-Steel Straw Kit
Stainless steel is durable, so when you customize these 11″ straw kits, they will be out there promoting your business for a long time to come. Each kit includes one or two straws. All straws feature a soft silicone tip and do not retain heat if used with a warm or hot beverage. Each kit consists of a wire cleaning brush for added peace of mind. The travel pouch accommodates the straws and brushes and can be customized with your marketing info.
4. Silicone Straw in Case
These food grade-silicone straws fold into a carry case made from recycled plastic. The compact case easily slips into a pocket or desk drawer, keeping the straw close by. When unfolded, the 10″ straw easily reaches the bottom of larger cups and bottles. Select the color of the straw and print your marketing info on the case to spread the word about your business.
Create Your Own Promotional Straws
Branded, promotional straws are good for your business and the planet. Reusable straws reduce the amount of single-use plastic that ends up clogging landfills and littering our oceans. Promoting your business with custom branded straws gives your customers options and enables them to use less plastic. Shop our eco-friendly promotional straws, and feel free to reach out if you have questions, need a quote or if you want to get started designing!
Tagged