3 Messenger Bags for Marketing That Everyone Wants!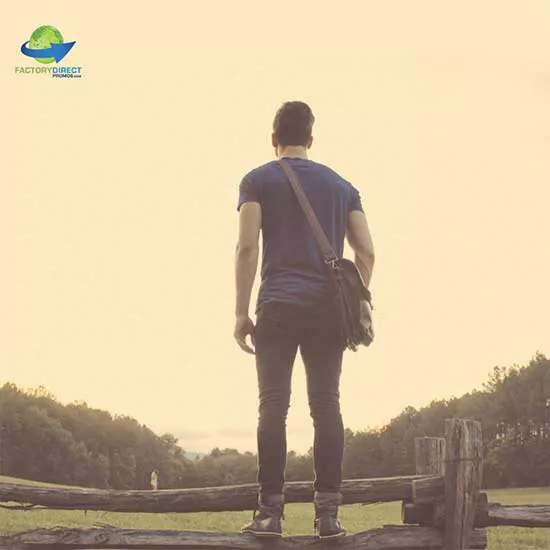 Find the Right Customized Messenger Bags for Your Brand
It seems that everyone wants a messenger bag. We recently posted on Facebook about our eco-friendly messenger bags and that post had more clicks than any other post we have ever shared on Facebook… except the 6 Ways to Reduce Plastic Pollution.
Becasue of this positive response to our messenger bag Facebook post, we thought it would be a good idea to go over our most popular eco-friendly messenger bags. For marketing, these bags make a statememt about your brand, will draw business to your booth at trade shows, and will help build beneficial relationships.
1. Custom Messenger Bags
Everything about our custom messenger bags can be altered to fit your specifications. Select the material texture, the size, shape, add pockets and anything else to make the bags look and work just the way you want. Of course, custom messenger bags are the best way to go if you need larger quantities as you get something 100% personalized to your brand. When you order larger quantities, it brings the price per bag down, allowing you to secure completely custom messenger bags for a great price.
2. Promotional Messenger Bags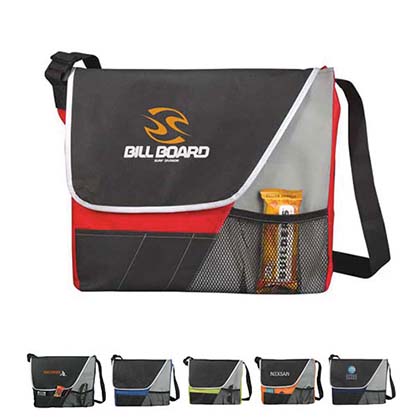 Our promotional messenger bags are made from durable 80GSM polypropylene material. This fabric is made from recycled content, meaning these bags are eco-friendly. So you can promote your business in an environmentally friendly manner while also making it easy for your clients to go green, too.
The wide shoulder strap is comfortable to wear and can be adjusted for easy carrying. The main compartment features a flap with hook-and-loop closure to secure items within. A front accessory mesh pocket keeps items visible and within easy reach. Contrast accents give these custom messenger bags a subtle style.
3. Recycled Messenger Bags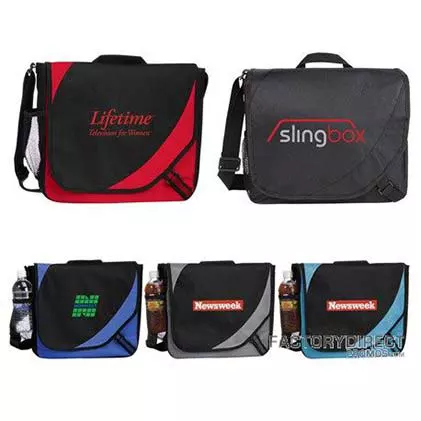 These recycled messenger bags are made from a polycanvas that can hang in there for years of dependable use. The large flap secures with hook-and-loop closure and protects items inside the main compartment as well as the accessory pockets. The large flap also provides a spacious area to print your branding info, like your business' logo, contact info or any other relevant information. A side water bottle pocket provides easy access to a drink on the go. The shoulder strap and top handle provide easy carrying options.
Create Your Own Custom Messenger Bags
For almost 30 years, we have been a leading manufacturer of custom eco-friendly reusable bags. We owe this longevity to our customers, and we work hard to best serve each and every one of our clients.
We know how to ensure the process of designing and ordering custom reusable bags is easy, efficient and cost-effective on our end, but also for you – our customers. Whether you need your custom messenger bags for an upcoming event, to sell in your store, if they will be part of your holiday gift or however you intend to use them, we understand that designing and ordering bags can be tricky.
Figuring how which material to use, what style and size bag and exactly how to customize the bag can be a challenge. We use our years of experience to make the process as easy as possible, so you can receive your bags as soon as possible and be happy with the final result.
Choose now from our selection of custom messenger bags for marketing.
Tagged