Top 5 Reusable Bags for Men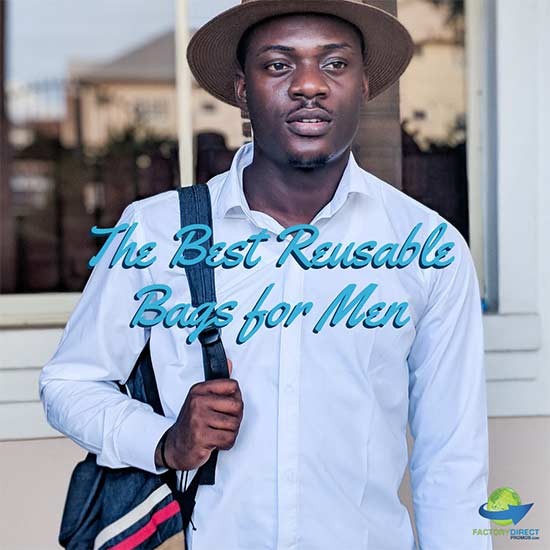 Marketing to Men? Here Are Our Top Picks for Promotional Reusable Bags They Will Want to Use
Amazing things can happen when you can get the right promotional marketing item into your customer's hands. People use items they need and like, so selecting a custom reusable bag that's a good fit for your customers increases the odds of those items being put to use.
The more your custom reusable bags are used, the more your customers will think about your business and the more exposure they will give your brand. Certain bags appeal to different demographics. If your audience is largely male, then these are some of the top reusable bags for men.
1. Reusable Folding Totes
Folding tote bags are great because guys can toss them into the glove box, a backpack or elsewhere and have them on-the-ready for when they need them. Great design options included in this reusable folding tote bag for men are the shorter handle for carrying by hand as opposed to tossing over the shoulder and a small carabiner clip that comes in handy for storage.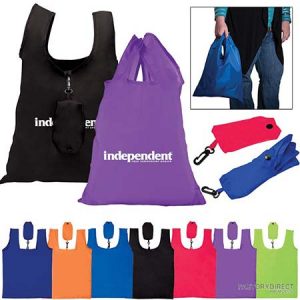 2. Reusable Cooler Bags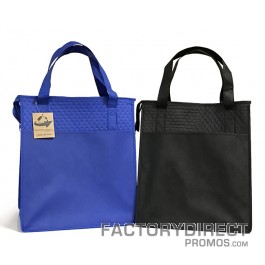 Reusable cooler bags come in all shapes and sizes, so you are sure to find the right style for your customers. Our Eco-Life insulated tote keeps hot foods hot or cold foods cold. With it's 20" reinforced handles for increased durability and large outside pocket, this bag is a perfect reusable bag for men. This tote is fully customizable and supports full-color printing, making it a great promotional piece.
If men are your target market, they will also enjoy the traditional insulated lunch totes. Zipper closure keeps items inside the bag from slipping out of the tote if it is tipped or falls over. The handle makes it easy to grab the bag as your clients head out the door.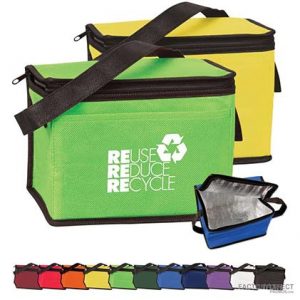 3. Eco-Friendly Messenger Bags

These eco-friendly messenger bags are some of our most popular for good reason. Men and women love them for convenience and organization. These bags will bring massive traffic to your trade show booth and massive memory recall of your company for many years to come. These bags are made from recycled content, making them an eco-friendly marketing tool that will promote your brand while going easy on the planet and appealing to consumers interested in going green.
Promotional messenger bags that have features like a flap with easy hook-and-loop closure, contrasting accents, meshed outside pockets for ease in finding keys, snacks, and other items, as well as a durable non-woven 80GSM polypropylene material that is recyclable, are great choices for a man's active lifestyle.
4. Customizable Drawstring Bags and Reusable Backpacks
Customizable reusable backpacks made from 210D polyester, which is made of recyclable material offer a convenient way to carry items to school or work and are environmentally friendly. The adjustable padded shoulder sling is comfortable to wear while a cell phone holder keeps the customer's phone close at hand.
Another backpack-style option is our fully custom, full-color drawstring bags. Add pockets and whatever features will give these drawstring bags function and transform them into the ideal reusable bags for men. You can also design the perfect promotional backpacks for men that will be loved and used for years.
5. Fully Custom
If none of these options are catching your eye then maybe you need to go fully custom. You can always design your very own reusable bag from the ground up. Sometimes selecting an existing design is a good starting point and you can alter and build out from there. Other times, starting with a clean slate is the way to go. If you have a vision, we can help you bring it to life.
Design the Perfect Reusable Bag for Men
You know your audience and what they need and want when it comes to promotional products. If you are looking to design bags that appeal to your male demographic, then we are here to help! For almost three decades we have been helping our customers create custom reusable bags that promote their businesses while also utilizing recycled and sustainable materials. During this time we have learned how to streamline the process to save money and time and we pass these savings along to our customers.
Are you ready to design your very own custom reusable bags? Get in touch with our team by calling (866) 222-0949 or contact Factory Direct Promos!
Tagged