Making Sense of Reusable Bag Options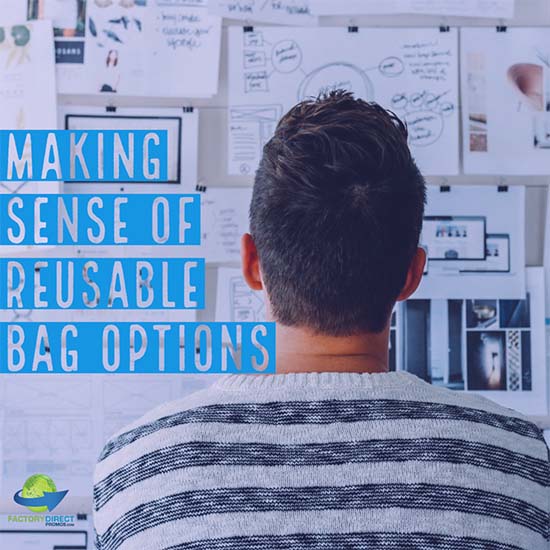 How to Create the Best Reusable Bags for Your Brand
You know you need something to hand out and promote your business at an event or trade show, or to use as a holiday gift or maybe even to sell in your store. Custom reusable bags seem like a great fit, they're eco-friendly, affordable and they provide an amazing return on investment. However, figuring out the right bag and the material to use can be foreign to some. A customer recently reached out with these concerns, and we get it. These are big decisions and you want to do what best serves your purpose, but where do you start? We're here to help you create the right reusable bag for your brand!
Where It All Started
This post came about in response to a comment we received. Here's that comment:
"Hi, I am having a difficult time sorting through the different reusable bag options. I would like to add a logo to one or both sides and think the "grocery bag" looks good. But, frankly, it looks like many of the other bags! What are its benefits vs NonWoven PP or Recycled or Jute?! Are some stronger? Or prettier? I know I am looking at a relatively small quantity overall. Which of the options are the most affordable?"
Bag Style
Grocery bags are perhaps the most popular style of bag we create. This is for good reason, this style of bag is versatile. Your customers can use grocery-style bags during a trade show and they transition nicely to grocery bags or a tote for just about anything. Reusable grocery bags appeal to pretty much everyone. These bags really only differ when it comes to the size and the material (more on that in a bit).
More specialized bag designs offer a lot of function and purpose, but if that function does not serve your customers then it's for nothing. For the right demographic, insulated totes, wine bags, messenger bags or drawstring bags can provide a ton of purpose and function which can greatly benefit your customers and your brand. Grocery bags work for everyone and are more widely appealing across all demographics.
Material Options
All of our materials are environmentally friendly, so if your goal is to create a green marketing tool then we make that easy. Reusable grocery bags are environmentally-friendly because they reduce the need and use of single-use plastic bags. Sustainable or recycled content makes these bags even more eco-friendly.
Each material offers various pros and cons. Typically, the style of bag or the type of printing you want to use will determine the ideal fabric.
Sustainable Fabrics
Jute and cotton are sustainable fabrics made from plant fibers. This fabric provides a natural or rustic look. The naturally textured surface does best with artwork featuring one or two colors. More detailed artwork may not display as nicely on the textured surface.
Woven Polypropylene
Both woven and nonwoven polypropylene are made from recycled content plastic. The way the plastic is processed and manufactured differs, which is what sets these materials apart.
Woven polypropylene is very durable. Reusable bags made from woven polypropylene can hang in there under extreme conditions. If used under less extreme or more regular conditions, bags made from woven polypropylene should last for a long time. This is a benefit to your brand because the longer the bag lasts the more exposure your brand will receive.
Nonwoven Polypropylene
Nonwoven polypropylene is lightweight and the surface is very smooth and soft. This smooth surface accepts more detailed printing. If you want to print very intricate artwork and maybe multiple colors then nonwoven polypropylene is a good fit. This fabric also comes in at a lower price point, making it more budget-friendly.
Create Your Custom Reusable Bag
Once you have selected your bag style, fabric and submitted your artwork, one of our team members will reach out to you and help you complete your design. We have been creating custom reusable bags for almost 30 years and our team is seasoned, so we've seen it all and we can help bring your vision to life. We make sure your design is completed to your satisfaction.