Top Selling Recyclable Bags for Retail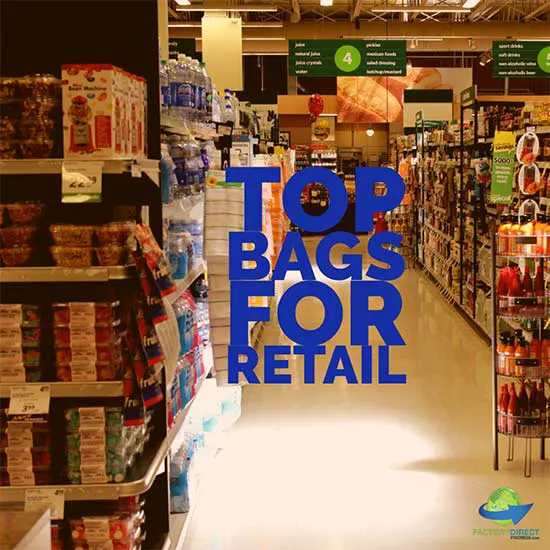 Go Green with Recyclable Reusable Grocery Bags
One of the most significant features of recycled grocery bags is how well the bags function. Different bags have different features that appeal to different demographics. This may seem silly and you may be thinking all a bag really needs to do is hold stuff. That's true, but the material, size, handle length, and other features elevate the functionality of a bag. A bag with a functional design will quickly become a customer favorite. This sort of bag will foster a positive association and relationship between your customers and your brand and help your customers use less plastic.
To help you zero in on the right eco-friendly reusable bag for your brand, we've pulled together a list of some of our most popular options. Check out these top-selling recyclable bags for retail.
1. Eco Recycled Bags
With dimensions measuring 12˝·13˝·8˝ (W·H·G), these predesigned gusset reusable grocery bags are a good size – big enough to get the job done without being bulky or cumbersome. Our eco-recycled grocery shopping bags are slightly bigger and are also made from RPET material, a durable fabric made from recycled plastic such as bottles. They feature patterned gusset panels that help draw attention to the bags and will get your branding message noticed as your customers carry their purchases home.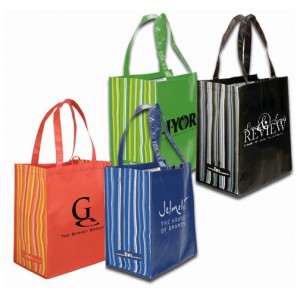 2. Reusable Hurricane Bags
Our reusable hurricane grocery bags are a perennial top seller and for good reason. Made from 120GSM non-woven polypropylene, these bags are durable and eco-friendly. Both the bottom and handles are reinforced to support up to 25 pounds, making these bags a dependable standby for your customers. The large front panel provides a spacious printing area to promote your business and spread your branding message.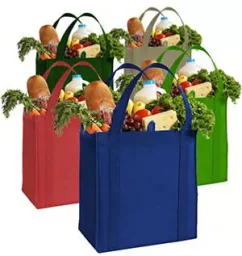 3. Reusable Shopping Bags
The exterior pocket on these reusable shopping bags provides space to drop a shopping list or even to slip your phone or keys while on the go. Made from non-woven polypropylene material these bags are durable and will be out there promoting your business for a long time. The pattern on the gusset can be carried across to the front of the bag for a cohesive and eye-catching look that will help get your message noticed.
4. All-In-One Grocery Tote
This particular design is relatively new to our lineup, but it's quickly becoming one of our top-selling bags. The all-in-one design of these grocery totes makes it easy to organize items. Interior bottle holders secure large or heavy items, like bottles of soda, sauce, cooking oils, or wine to prevent large items from falling onto products like bread and eggs. Two interior pockets provide space to help store and organize items. The bottom insert provides stability and makes for easy carrying. The 110GSM non-woven polypropylene material stands up to regular use and ensures these bags will continue to function and look good for a long time.
5. Custom Grocery Bags
All of our bags can be customized by printing your logo and other branding information on the bag, but when we say you can create your very own custom grocery bags, we really mean it. Tweak the existing design or start over with something completely new to design a recyclable bag that fits in with your branding and simplifies your customers' lives by giving them a handy reusable grocery bag.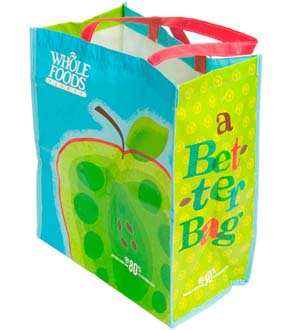 Find Your Top-Selling Bag
More consumers are looking for ways to use less plastic while also finding an easy and comfortable way to carry their purchases home. All of these bags are made from recycled content, making them eco-friendly, but they also feature some added perks that give them some extra function.
We have been helping our clients create custom reusable grocery bags for almost 30 years, so we know how to simplify the process. If you're interested in creating custom recyclable bags for retail then get in touch and let's make this happen!
Tagged