2 Insider Tips to Get THE Lowest Price on Custom Reusable Bags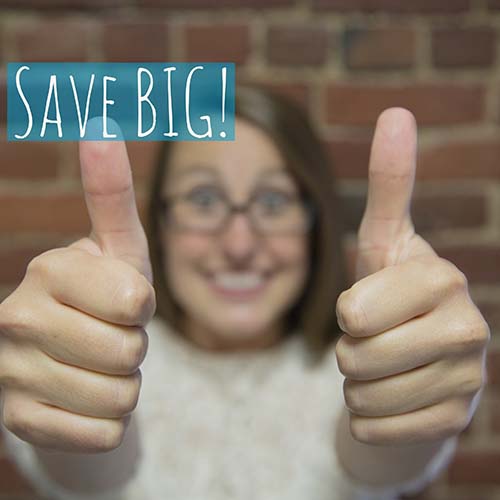 Score a Great Deal on Custom Reusable Bags
Saving money makes it possible to get the most out of your budget, helps your bottom line, and also delivers a certain type of satisfaction from landing an amazing deal. If you are thinking about ordering custom reusable bags, we have two insider tips to help you get the lowest price.
Keep reading to learn how to purchase custom reusable bags like a pro.
Plan Ahead

It is amazing how much money you can save if you just plan ahead. Ordering from our in stock selection ensures your custom reusable bags can be turned around rather quickly. If you are short on time this is your best option, but if you allow enough lead time you can order from our overseas facility. Doing so gives you a greater opportunity to customize your reusable bags, and it makes it possible to secure your custom reusable bags at a great price. Look at your marketing needs for the upcoming year and purchase accordingly. Be sure to place your order early enough to get your bags made at our factory overseas. This means you need to have 60-90 days lead time once you have approved the design of your custom reusable bags in order for our factory to have the time needed to manufacture your order.

Buy Enough

Think about how many custom reusable bags you'll need for any upcoming trade shows or events. Consider including your custom reusable bags in your corporate holiday gift, or as an employee gift. Tally everything up to ensure you order as many reusable bags as you'll possibly need. By ordering a minimum of 1,000 reusable bags you qualify for our overseas lowest pricing. The order minimum helps ensure a low price per bag, because the amount of setup work is about the same if your order 100 custom reusable bags or 1,000. The only difference is the amount of materials needed, so this is why you can secure a low price per bag if you order a large quantity.
Get Your Price Today
We further streamline the process by working directly with our factory. No middle men keeps our overhead and other expenses down, and we pass this cost savings along to our customers.
To learn more about how to order with us and our order minimums you can check this out.
We have over 20 years in business, so we know how to help you create custom reusable bags that will meet your green goals and come in at a great price.
Get the lowest price on custom reusable bags by contacting us today or get started creating your bags HERE!
Tagged