What Are the Best Reusable Bags for Retail?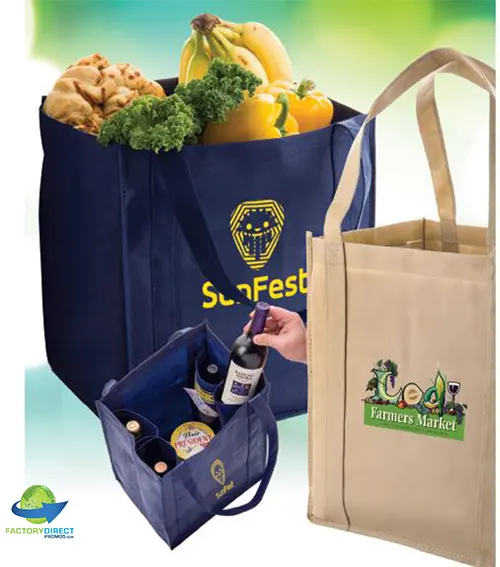 Finding What Works for Your Retail Business
I wanted to take a minute before this post begins to address the COVID-19 situation we are all working around. We know that work may not be the first thing on your mind right now, but for many of us, it is a way to cope, keep contributing, and a way to stay focused on a positive future. Right now, alongside doctors, nurses, and first responders, many of our retailers are putting their health on the line and working overtime to keep consumers stocked with medicines and supplies. We thank them for their hard work and bravery during this time. So as we get on to the business at hand, we will not forget the climate we find ourselves living under. How can we? But we will continue to offer help to our retailers in the form of reusable bags, excellent pricing, and useful content to help get your mind focused on business.
So let's get started…
With so many different styles of reusable bags available, knowing what to select for your next promotional product can be hard. You want something that effectively communicates your message but where do you even start? When you're looking for plastic bag alternatives for retail you should look for certified reusable bags. Custom reusable bags are in high demand and certified reusable bags are designed to hang in there for dependable use. Here are some of the best bags for retail.
First…How Are Bags Certified Reusable?
CalRecycle, which is a government agency in California, created guidelines around reusable bags. All reusable bags sold in California must meet these guidelines and be approved by CalRecycle. Many of our reusable bag designs are approved by CalRecycle, which is good news if you plan to distribute reusable bags in California. However, this is also good news if you plan to distribute reusable bags anywhere.
Certified reusable bags must be designed and constructed with durability in mind. This means the bags will hold up and perform as expected and shoppers can count on these bags. These well-made bags will last for many uses, meaning they will have plenty of opportunities to promote your business.
The 4 Best Bags for Retail Use
Finding the best wholesale bags for retail is easier than you may think. The following bags are some of our top reusable bags and for good reason. These bags are well-made so they will last and effectively promote your business.
1. Hurricane Bags
Hurricane Bags are built to handle heavy use which makes this a favorite reusable grocery bag. The durable 120GSM fabric can support a heavy load, and it's also eco-friendly since it's made from recycled content. Our Hurricane Bags feature reinforced handles for extra peace of mind.
2. All-In-One Grocery Totes
These All-In-One Grocery Totes provide all of the convenience of a regular reusable grocery bag, but feature interior pockets to take organization to the next level. Shoppers can secure heavy items in the pockets to evenly distribute weight for easy carrying and to prevent delicate items from being crushed.
3. Eco Shopper Tote Bag
Our Eco Shopper Tote Bags feature a spacious interior, which is always a great feature in a grocery bag. However, these bags have narrow gussets and broad front and back panels. This creates a large printable area to promote your business, but it also makes it easy and comfortable to load up this bag and wear it slung over a shoulder. Exterior pockets on the gussets are a great spot to store keys, a list, or a loyalty card while shopping.
4. Fully Custom Shopping Bags
Maybe you have something different in mind and you want to create unique and fully custom shopping bags. We can do that. Selecting an existing bag design is a great option if that design will work for your customers. But if you have an idea to alter the design of an existing bag or to just start at the beginning and design your own bag, you can. Creating a fully custom bag ensures your bag will function exactly as it needs to for your customers. This functionality will make the bag a favorite with your customers which means it will likely get a lot of use. This use translates into a lot of exposure for your business.
Getting Started
Finding the best bags for retail can really make a difference when it comes to promoting your business and expanding the reach of your brand. And there has never been a better time to expand our reach. Even in this climate, with so many bag bans, there is still an increased demand for reusable bags, so this is a great time to design your own custom reusable bag. Knowing what to look for can help you create the best bags for your business and customers.
We're here to help if you need it and answer any questions you may have. We have been in business for over 10 years, so we've figured out how to streamline the process to best serve our customers. We also have a strong commitment to our customers and the environment as is evident from our ISO certification. Please contact us if you want to learn more about the bags above or any of our custom reusable products!
Tagged