Tornado Bag BLOWOUT Won't Last Long!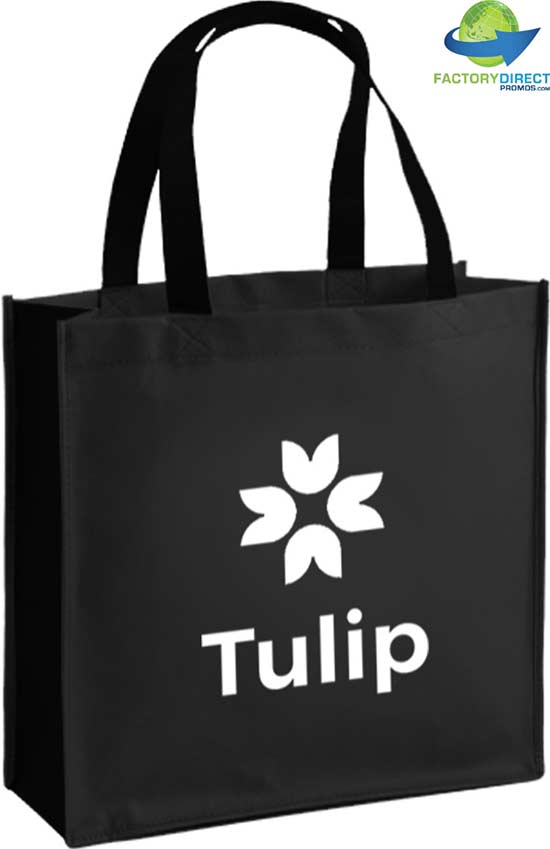 Start 2020 Green with This Black Tornado Bag Blowout
Promotional marketing is an effective and green way to grow your business. Custom reusable bags provide an excellent return on investment, and for a limited time, you can score an even better deal by taking advantage of our latest eco special! Get the details and find out how certified reusable bags can help your business go green.
The Details on This Eco-Special
Enjoy end column pricing and a free setup when you purchase a minimum order of 250 of our black Tornado bags. This sale is significant because it's like getting two sales in one. You must get your customized quote on this eco-special by December 6, 2020. Here's how end column pricing and a free setup can save you money and make the most of your marketing budget.
End Column Pricing
Our pricing structure is such that the higher the quantity you order the lower the price per bag. This is because as the quantity increases the materials also increase, but the amount of work stays about the same. Because you are able to spread the cost out over more bags, it brings the price per bag down. However, during this sale, we're offering end column pricing, which means you can lock in the price for a large quantity (the price in the end column of our pricing grid) when you order a lesser quantity.
Free Setup
On normal orders, we charge a setup fee which is very standard in the printing industry. This covers the cost of the plates and screens required to print your artwork on your reusable bag. As part of this sale, we're waiving the setup cost.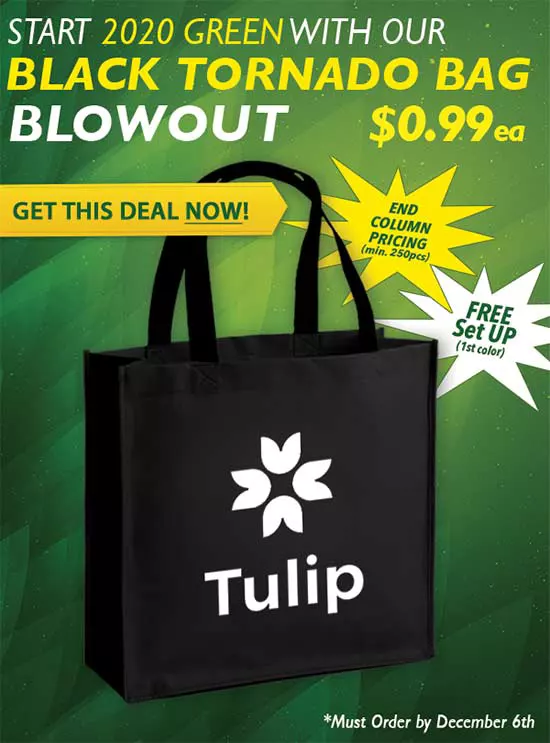 Certified by CalRecycle
As a Certified Reusable Grocery Bag Producer, our bags are built to deliver dependable results. We are certified by CalRecycle, which is an agency in California that confirms reusable bags are in fact reusable and can withstand regular use. Businesses in California that wish to distribute reusable grocery bags must purchase certified bags. This requirement does not extend to businesses located outside of the Golden State, but we use the same bags for all of our clients. When you order certified reusable bags from us, you can count on the quality of the bags.
Quality bags matter because they represent your business. A bag that holds up and delivers dependable use reflects positively on your brand. Also, the more the bags are used the more exposure they provide your business. Reusable bags that are certified will deliver more exposure and further the reach of your marketing message.
Reusable Black Tornado Bags Market Strong
Our black Tornado bags are made from heavy-weight 120GSM recycled content material. Repurposing materials make these bags eco-friendly and a green way to promote your business. The fabric also accepts full-color printing, which means you can get your message across in vivid or detailed artwork.
The bottom is reinforced, as well as the handles which can support up to 25 pounds. This means these certified reusable bags can make easy work of carrying a heavy load. The bags measure 13″ wide x 12″ high x 6.5″ deep, so there is plenty of space to fit a variety of items.
Get This Deal Now
Ordering now ensures you will have your certified custom reusable Tornado bags in time to hand out in the New Year. Our custom Tornado bags are a great deal to start, but enjoying end column pricing and free setup helps you save money while going green in 2020. Shop our eco-special NOW!
Tagged