Bags for Recycling Help Educate Tenants and Increase Recycling Rates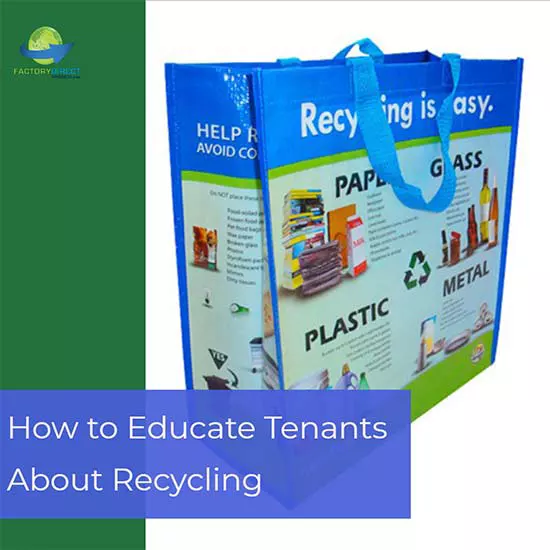 Learn the Secret Hack to Simplify Recycling
Recycling is advantageous because it keeps materials with plenty of life and function left in them out of landfills. As landfills are filling up and reaching capacity, recycling is a viable solution. However, recycling isn't always easy; particularly for people living in apartments and multi-family dwellings. Bags for recycling are proving to be a highly effective solution at increasing recycling rates. The convenience of these bags is part of the reason, but there's more behind the success of reusable recycling bags. Find out the additional advantage reusable recycling bags provide that help to increase recycling rates.
Addressing the Problem
Reusable recycling bags are effective because they make it easy for tenants to collect items for recycling and carry these items to a collection bin or dumpster. Lack of convenience is a major reason why apartments lag in recycling. Studies have shown that about 54 percent of households living in single-family homes recycle, compared to just 10 percent of households living in apartments and other types of multi-family dwellings.
Tried and True Design
Reusable recycling bags are designed to make it easy for tenants to recycle. Dual handles allow for easy carrying and also slip over a doorknob, hook or coat rack, keeping the bag conveniently within reach and accessible. The durable material is water-resistant, so any spills or messes are contained. The bag can easily be wiped down if a mess needs to be cleaned up. A handle on the exterior bottom of the bag makes easy work of emptying the contents. All of these features work together to create a bag that works for the purpose of recycling.
Full-Color Printing
The smooth surface of our reusable recycling bags accepts full-color printing on all sides. This means we can print detailed artwork and information on the surface of the bags, and this has turned out to be a massively useful feature. Including educational information directly on the bags make it easy for tenants to recycle.
The bag becomes a resource people can turn to when they have questions. Decode recycling jargon by listing out what recycling emblems mean and which types of plastics are accepted in your local program, or include other useful info, such as items people may overlook when it comes to recycling or a telephone number for questions.
Make It Easy to Learn More
A lack of understanding is a major barrier to recycling. In most instances, when people fail to recycle it's simply because they are unaware that they can recycle particular items. Out of habit the label from a soup can or the plastic tray from a microwave meal may end up in the garbage instead of being recycled.
We can print on all four sides and the bottom of these bags. That works out to a lot of space to provide very useful information. Many property managers and municipalities that have put reusable recycling bags to use will also include contact info or a website people can visit to learn more and get their questions answered.
Design Your Reusable Recycling Bags
Reusable recycling bags work by making it easy for tenants to recycle. The design and construction of the bags is a major factor, but the ability to print custom artwork on all exterior surfaces is hugely significant. Including useful and handy information educates tenants about what can and should be recycled and empowers people to make informed decisions. Work to increase your recycling rates in multi-family dwellings and get your custom quote today on reusable recycling bags.
Tagged