Buy Certified Recyclable Bags at The Lowest Possible Pricing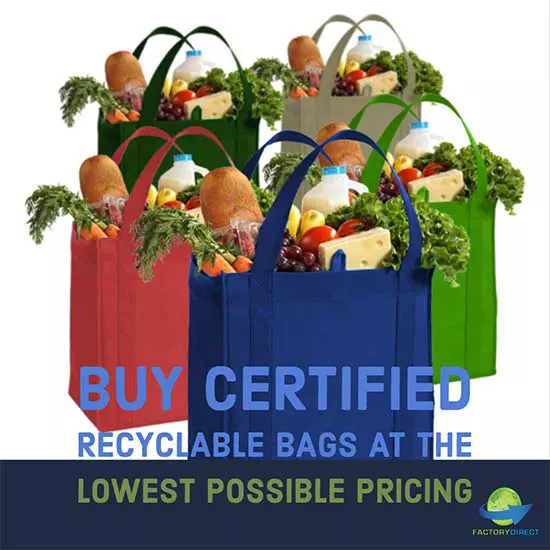 Certified recyclable bags are a great investment in your brand. As your customers use these custom bags you build mindshare of your business with them and also help spread your branding message. Bags that are recyclable are good for your business and the planet. Learn why our certified bags are good for your business, what helps them stand apart, and how you can secure the lowest possible pricing.
Understanding Certified Recyclable Bags
Our custom reusable bags are certified to hold up under regular use like groceries. Certified by CalRecycle,—a division of California's waste management system—means that you can purchase our bags with confidence and be assured that our reusable bags are built to last.
In order to earn the reusable certification from CalRecycle, bags must have handles, have a capacity of about four gallons, and be able to withstand at least 125 uses. Our certified bags meet all of these requirements, which means you and your customers can count on our bags to hang in there and promote your business.
Benefits of Certified Recyclable Bags
Reusable shopping bags are good for the planet because they reduce the use of single-use plastic bags. Recyclable bags are a great option because after they have fulfilled their use, your customers can recycle the bags and the material can be turned into something new and useful. Certified bags provide added peace of mind that your investment is a good one. Promotional products represent your business, so you want something that will last and provide value. The quality design of our bags ensures they will last and provide a useful function for your customers, while also promoting your business and reducing the use of disposable products.
Secure a Great Price
Factory Direct Promos bags are wholesale because of the direct relationship we have with our factory. We have streamlined the process which enables us to save time and money, giving our customers great pricing based on quantity. If you want to secure an even lower price per bag, order your reusable bags in bulk.
The more reusable bags you order, the lower the unit price. The amount of work necessary to produce additional reusable bags decreases per bag as the order quantity increases. For this reason and more, the unit price decreases as the order quantity increases. Purchasing in bulk allows you to secure a lower price per bag.
Buy in Bulk
Buying bags in bulk is always the way to go but figuring out exactly how many bags you think you will need takes some consideration. Here are some tips to help you determine how many bags you should order that will help you hit a higher, bulk quantity while also locking in the best price possible.
– Replace your existing product packaging with reusable recyclable bags.
– Design bags that can be used for all trade shows and events your business will attend throughout the year.
– Give corporate gifts in recyclable bags.
Put Bags That Can Be Recycled to Work for Your Business
We have been in the business of helping our clients design custom, eco-friendly bags that can be recycled for over 10 years. Our team is ready to answer any questions and help you create unique, branded bags that will promote your business. Browse our line of certified reusable bags and request your customized quote today.
Tagged