Tips to Design Custom Grocery Bags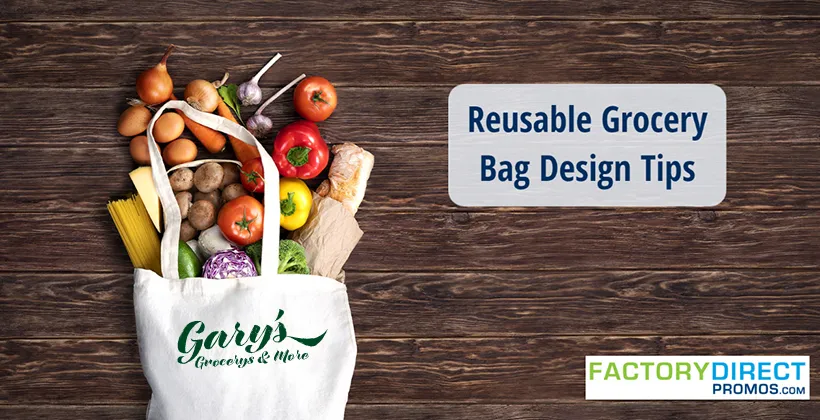 Reusable grocery bags are convenient and eco-friendly. Designing a custom grocery bag allows you to positively impact the planet by reducing the need and use of disposable plastic bags. Reusable grocery bags also make wonderful promotional products. Custom bags are an opportunity to routinely remind customers about your brand while enabling your existing customers to introduce your brand to new customers. Here are some tips for designing custom grocery bags for your brand.
Understand the Purpose
Reusable grocery bags are designed for carrying groceries home from the store, but these bags are versatile. If you need to take items to work or the gym or load up a dip and chips when you head to a party, then a reusable grocery bag is up to the task. You can carry anything that will fit in the bag anywhere you need to go. Grocery bags are handy but consider specialized bags, like cooler bags or all-in-one totes, to create something unique that will appeal to your customers.
It's best practice to routinely clean your reusable grocery bags and designate bags for groceries and bags to use for non-grocery shopping if applicable.
Material
Choosing the material is a big decision when designing a custom grocery bag, but we make the process easy. Consider how the finished bag should look and function to determine the ideal material. If you want a natural look, then select sustainable fibers with a textured finish, like cotton or jute reusable grocery bags.
Materials made from recycled plastics have a smoother finish and support different printing methods, allowing for more detailed artwork. Woven and non-woven polypropylene have a lot in common but have some differences that may make one or the other a better choice for your project.
Design
We have a wide selection of in-stock grocery bags ready to go. These bags are designed to function and hold up under regular use. You can select the bag's colors, send us your artwork, and we'll create your custom grocery bag.
If you want to take your customizations to the next level – we can help with that, too. You can design your very own custom reusable bag from the ground up, or you can modify one of our existing designs. Adjust the handle length, or add pockets to the gusset, front panel, or interior. Include a zipper to secure items, or let us know what you have in mind, and we'll figure out how to make it happen.
Choose a design representing your brand or message and speaking to your customers. The more useful the bag is, the more it will be used and the more exposure it will give your brand.
Create Your Custom Grocery Bags
Custom grocery bags are helpful items your customers will easily find a use for that also help the planet and your brand. Understanding what your customers need and how they will use custom bags is important to selecting the right bags for your brand. The right material and design are also important factors when designing custom grocery bags.
We simplify the entire process, so let us know if you are ready to create your next promotional product or have questions. We have worked with many industry leaders, including American Express, Bank of America, Carnival Cruise Lines, Pepsi, The Home Depot, Whole Foods, and more. We want to help you, too.
Call us at 866-222-0949 or get your customized quote on our reusable items for marketing and retail use.
Tagged