Woven Vs. Non-Woven Polypropylene Bags.
Which One Is Right for YOUR Marketing?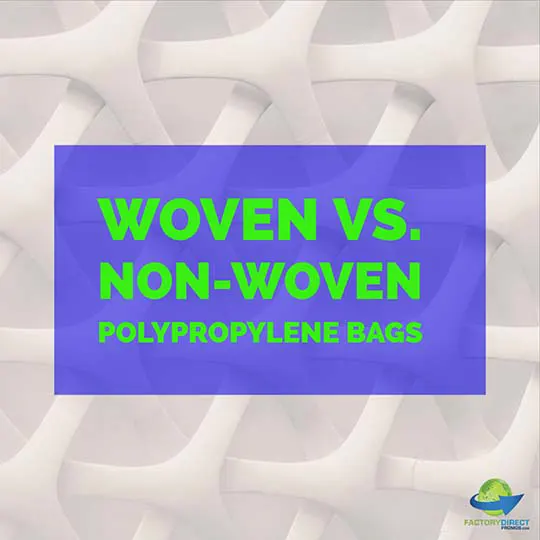 Understanding The Difference Between Woven Vs. Non-Woven Polypropylene Bags
When it comes to creating your very own custom reusable bags, you want something durable and eco-friendly, but when faced with your options it can be hard to make a decision. If you've narrowed down your options to recycled plastic, that's a start, but you still need to make the call between woven vs. non-woven polypropylene bags. We've tried to help answer this question before in an earlier post explaining what is the difference between woven and non-woven polypropylene bags. We're going to tackle the question of woven vs. non-woven polypropylene bags again, to help you understand which one is right for your marketing.
The Value of Going Green
Opting to promote your brand with green promotional products reduces your brand's environmental impact while also showing your customers that you are serious about making responsible choices. This shows your customers that your brand gets it – you talk the talk and walk the walk so to speak.
Understanding Your Options
Two of our most popular recycled content options are woven polypropylene and non-woven polypropylene. We get questions all the time asking about the differences between these two fabrics. To start, these fabrics are very similar. Both are made from recycled content and are recyclable themselves. Similarities aside, let's get into the differences.
What is Woven Polypropylene
Woven polypropylene is made when recycled plastic is stretched into long threads. These threads are then woven in a way similar to how cotton and other fabrics are woven. This woven construction lends the fabric lots of durability.
What is Non-Woven Polypropylene
Non-woven polypropylene is also made using recycled plastic stretched into threads, but those threads are bonded together. The resulting fabric is also very durable, it also has a somewhat softer smoother surface.
Which One is Right for Your Objectives
Both options create durable reusable bags that will deliver years of dependable use. There are a few factors to help you decide between woven vs. non-woven polypropylene bags.
Artwork
If you plan to create a custom reusable bag with extensive artwork printed on the bag, non-woven polypropylene has a slight edge. The smoother surface of non-woven polypropylene makes the fabric a better candidate for full-color printing and it accepts more detailed artwork. Printing custom artwork on woven polypropylene is fine and gives a slightly textured finish but may not showcase extensive detail as well as the non-woven polypropylene.
Pricepoint
If budget is a guiding factor, you should consider non-woven polypropylene. This fabric is less expensive than woven polypropylene, allowing you to create something custom while getting the most value for your marketing budget.
Creating Your Custom Reusable Bags
With almost 30 years in the custom promotional product business, we have learned how to streamline the process and we take sustainability very seriously. During this time we have received a variety of awards and distinctions, like GOTS, Fairtrade, ISO 9001-2015, and FedEx. We can take on jobs large or small and we're ready to help you create your next marketing item!
Now that you have a better understanding of woven vs. non-woven polypropylene bags you can decide which material is right for your custom marketing gear. If you have questions and need help, we are available!