6 Affordable Reusable Drinkware Options for Your Marketing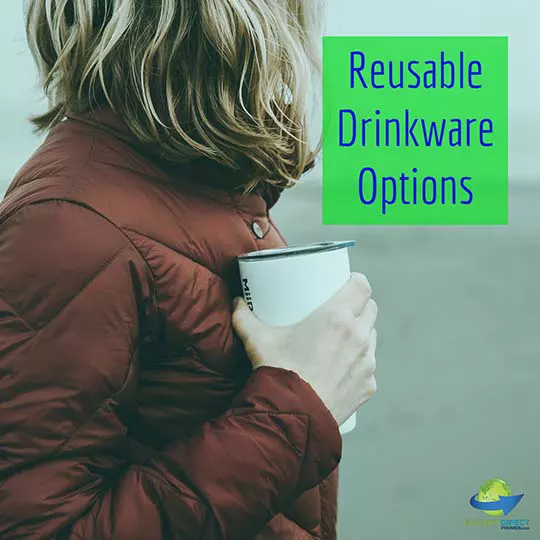 What Affordable Drinkware Options Are Available to Market Your Brand?
Just as reusable grocery bags are wanted and used by consumers, reusable drinkware is also a top-rated promotional product that resonates with most consumers. We already covered 6 stats about reusable drinkware your marketing department needs to know. Now we want to look at the affordable types of reusable drinkware options available to your brand.
Great Return on Investment
One of the most staggering facts from our earlier post was that if you spend $7 on a drinkware item, that product will end up providing enough impressions that it works out to a cost of half a cent per impression over its lifetime. It is almost crazy not to market your brand with promotional drinkware, given this metric.
Learn more about the types of affordable reusable drinkware options available to find the right fit for your brand.
6 Wholesale Drinkware Options for Your Brand
1. Stainless-Steel Water Bottles
Staying hydrated provides many health benefits, and stainless-steel water bottles are a great accessory to help people replenish fluids after a workout or to ensure they get enough water during a typical workday. Stainless steel is durable and easy to clean, making it an excellent option for your custom reusable drinkware.
2. Aluminum Water Bottles in Bulk
Aluminum is also an excellent material for reusable drinkware. Water bottles made from aluminum are easy to clean and recycle when they have fulfilled their purpose. Aluminum water bottles can be customized and stand up to regular use and come in at a slightly lower price than the stainless-steel alternatives.
3. Eco-Friendly BPA-free Plastic Water Bottles
Plastic water bottles come in at an even lower price point and will not dent how metal water bottles may. Our eco-friendly plastic bottles are made from BPA-free plastic, meaning these bottles are safe to use for added peace of mind.
Many of our plastic water bottles feature a wide opening, making it easy to add ice cubes or slices of lemon or other fruits to add flavor to a beverage. All of our eco-friendly plastic bottles can also be recycled when the time comes to reduce the environmental impact of your marketing.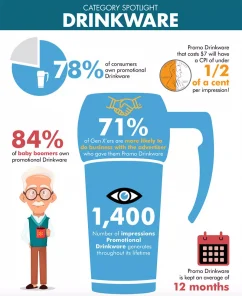 4. Eco-Friendly Reusable Coffee Cups, Travel Mugs, and Tumblers
When most people think about reusable drinkware, they think of water bottles, but there is so much more! Our lineup of eco-friendly mugs and tumblers includes reusable coffee cups great for coffee or tea. Your customers can easily sip water, smoothies, or other beverages using cups with lids and straws. We even carry customizable blender bottles (aka shaker bottles) so your customers will be reminded of your brand while they make their favorite shake.
5. Eco Folding Bottles
Folding or collapsible water bottles let your customers have the benefit of a water bottle without the bulk. Eco-folding bottles are made from BPA-free lightweight plastic. When the bottles are empty, they can be collapsed or folded to take up minimal space. These bottles can easily be stowed in luggage or taken on hikes, runs, or bike rides. The compact size is even great for storage at home.
6. Eco-Friendly Straws
Plastic is bad for the planet, which has caused many people to ditch their disposable plastic straw habit. This movement has created a need for eco-friendly straws. Whether you are interested in a reusable silicone option that can be washed and used repeatedly or stainless steel straws, we have customizable products to fit your and your customer's needs.
Find the Right Reusable Drinkware Option
Reusable drinkware is a marketing force that effectively and inexpensively gets the word out about your brand. Shop our reusable drinkware now! Whatever you have in mind, we have an option that will promote your brand in an eco-friendly way while providing the most value for your marketing budget.
Tagged