6 Stats About Reusable Drinkware Your Marketing Department Needs to Know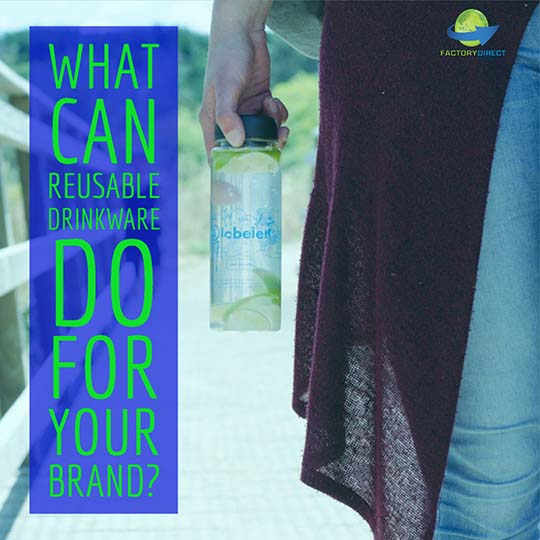 Find Out What Reusable Drinkware Can Do For Your Marketing
When it comes to reaching consumers using promotional products, marketers have a lot of tools at their disposal. However, when it comes to reaching a brand's audience, some tools are more effective than others. Each brand is unique and demographics differ, but one eco-friendly product category that delivers major results for all brands is reusable drinkware, such as custom coffee cups and water bottles.
Following are some of the reasons why you should promote your brand using reusable drinkware.
Marketing Tips
We rounded up these tips from the ASI 2019 Global Ad Impressions Study. If you are a part of marketing at your company, that's great! If not, you will definitely want to share this post with your marketing department in case they don't know this info and, in turn, it might be hurting your brand!
Benefits of Promotional Products
Promotional products are simply reusable items that bear a business' logo and branding information. These are items consumers can use again and again that will work as a reminder of the brand. So every time a consumer uses a branded item, they will think about that business. Promotional products also work like signs, so when consumers use the branded products they are also spreading the brand's information to a wider audience.
1. 78% of Consumers Own Promotional Drinkware
An overwhelming majority of people own promotional drinkware. This shows that most people are receptive to receiving and using promotional drinkware. Promotional products are only effective if your customers use the gear. The fact that so many people own promotional drinkware is a strong indicator that there is a need and demand for promotional drinkware.
2. 87% of Baby Boomers Own Promotional Drinkware
Baby boomers make up a significant amount of consumers. If your brand appeals to baby boomers, this stat shows that you should seriously consider creating customized reusable drinkware. If you do, there is a very good chance your audience will use your branded drinkware and promote your brand in the process.
3. 71% of Gen X'ers Are More Likely to Do Business with Advertisers Who Gave Them Promotional Drinkware
It's great when consumers just use your promotional drinkware. The simple act of routinely sipping from a branded mug or water bottle will remind consumers about your brand. Branded drinkware will also position your brand in front of an individual's family, friends, coworkers, and other potential customers. But when promotional drinkware can close sales you are getting the most value for your marketing expense.
4. Promotional Drinkware is Kept for an Average of 12 Months
Utilizing promotional drinkware is a long game. An investment made today will continue to be in use and out there promoting your brand for at least a year. Other forms of paid advertising fall short of delivering that kind of long-term marketing result.
5. Promotional Drinkware Will Generate 1,400 Impressions During Its Lifetime
During the time your consumers hold on to your branded promotional drinkware, that single item will generate a ton of impressions. These impressions will establish and reinforce your branding message and just be a helpful reminder about your brand. The more your customers see your branding information, the more they will become used to and comfortable with your brand. This sort of relationship will establish your brand as a trusted source.
6. Promotional Drinkware That Costs $7 Will Have a Cost Per Impression (CPI) Under ½ of a Cent
Customized promotional products provide a stunning return on investment and drinkware is no exception. Many types of promotional drinkware will be used almost daily. That works out to a lot of impressions and ensures an initial investment of $7 per item delivers a great value.
The More You Know
These six stats make it clear that reusable drinkware should be part of your marketing lineup. Reusable drinkware is an in-demand item that delivers loads of impressions while providing tremendous value.
SHOP NOW for items like stainless steel water bottles and custom plastic water bottles then come back to read our next post to learn more about the different categories of reusable drinkware that are not to be missed!
Tagged