5 Eco-Friendly Promotional Gifts for Hybrid Events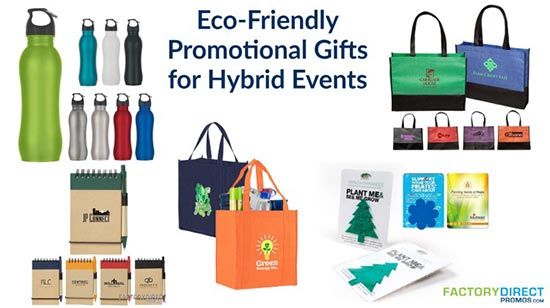 Connect Virtually or In-Person with Eco-Friendly Promotional Gifts
Events like trade shows and conferences are coming back with many being offered in a hybrid form. While these events may look very different from what we were all used to experiencing before COVID, they are still an amazing opportunity to meet and connect with people in your industry.
For hybrid events, both attendees and exhibitors will have the option to be there in person or online. Technology is making it possible to arrange meetings and ensure people are prepared and able to engage in a meaningful way.
Promotional gifts have always been a great way to connect and make an impression, and they are possibly even more valuable when attending a hybrid event.
Here are 5 eco-friendly promotional gifts that you may want to use at hybrid events.
1. Promotional Trade Show Bags
Reusable trade show tote bags are incredibly useful while attending a trade show. Attendees will receive lots of swag, like catalogs and takeaways from other exhibitors, so promotional totes are very useful while attending an event in person.
For those attending online, custom bags also come in handy long after the event is over and can be used as reusable grocery bags.
2. Stainless-Steel Bottles
Reusable water bottles will make it easy for attendees to stay hydrated during the event, whether they attend in person or virtually. Reusable water bottles will continue to be used after the event.
Whether a  custom stainless-steel water bottles or custom aluminum water bottles they're both durable and typically last for many years so these bottles provide an amazing return on investment and are an eco-friendly promotional item choice since they are so highly recyclable.
3. Two-Tone Grocery Totes
Attendees will enjoy the convenience of a reusable bag, but also the style of these two-tone grocery totes. The spacious compartment gives this bag a lot of versatility for use post-event. It can be used as a grocery bag, but it can also be used for work or the beach, or just about anything.
4. Recycled Notepads
Pen and paper are sure to be put to good use when attending an event, but like all of the other items we discussed so far, they continue to serve a useful purpose after the event is over.
These recycled notepads and the included pen are made from recycled content.
The pen can be secured to the pad when not in use, so it's always close by and easy to find when an attendee needs to write something down.
5. Seed Mini Gift Packs
Seed paper is simply paper embedded with seeds. The paper can be planted, and the paper will safely break down and the seeds will sprout. Seed paper makes for a great promotional item because your clients will engage with the item and have a memorable experience.
Our seed mini gift packs include a shape die-cut from seed paper and a card made from recycled content paper that can easily align with your brand message .
You can print useful information on the card, so even after your attendees plant the seed paper they will still have the information you wanted to share.
Get Eco-friendly Promotional Items to Attendees
After you select the right eco-friendly promotional item for your brand, you can ship some to the venue to be handed out to in-person attendees. You can also ship some directly to attendees who register to attend virtually. This way, everyone will have the same item and people attending virtually will still feel involved and part of the event.
You may also want to consider sending your promotional takeaways to everyone ahead of the event whether they plan to attend in-person or virtually. This is a great way to help both your gift and brand stand out and it can help get everyone excited for the event.
You can also offer your eco-friendly promotional items as an incentive to sign-up early!
Shop our full line of eco-friendly promotional products by clicking the links above and request your custom quote today!
Tagged