Has Rhode Island FINALLY Banned Plastic Bags and Straws?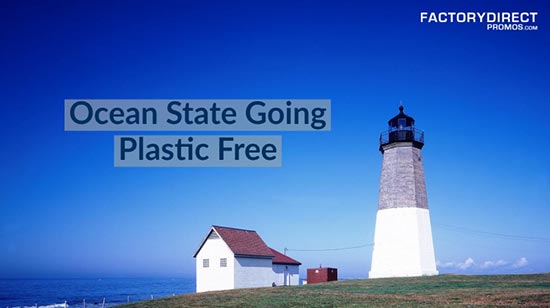 Ocean State Going Plastic-Free…Finally?
After a delay resulting from the Coronavirus pandemic, Rhode Island is finally moving forward with efforts to ban disposable plastic items. The Senate recently passed two bills that will ban single-use plastic bags and straws respectively.
You can learn more about plastic bag bans by looking at our map that covers the movement.
Today we look at both of Rhode Island's bans and explain what your business needs to know.
History of Rhode Island Plastic Bag Ban
A disposable plastic bag ban has been in the works in Rhode Island for many years. We first reported on the possible ban in 2013.
Earlier proposals for a bag ban in Rhode Island failed  to pass partly due to concerns that the ban would not be strict enough. While a state-wide measure continued to be reworked and went through the process, several cities in Rhode Island passed their own plastic bag bans.
There has always been support for measures to reduce disposable plastic, but officials wanted to make sure they go it right.
After the Senate passed the Plastic Waste Reduction Act, all of the hard work finally paid off, efforts came together and it looked like Rhode Island's plastic bag ban would finally become a reality. Then the pandemic began and the ban was put on hold.
In a sign that things are beginning to return to a sense of normalcy, the Rhode Island Senate has again passed the Plastic Waste Reduction Act, which is a state-wide ban on single-use plastic bags.
The Single-Use Plastic Straws Bill which prevents businesses from handing out disposable straws unless requested also passed.
Concerns About Disposable Plastic
Both measures are in response to concerns about litter.
Single-use plastic provides momentary convenience but is very likely to end up in landfills or as litter. Neither of these outcomes is ideal.
Plastic does not biodegrade, so when plastic is in a landfill, it just takes up space. This contributes to landfills reaching capacity much sooner.
Plastic litter is potentially a much worse problem.
Not only is litter an eyesore, but it is very damaging to animals, particularly marine animals. It is possible for animals to become tangled in plastic and left unable to protect or care for themselves.
Animals may also mistake plastic for food and ingest it. This can prove fatal for animals, but it is also a potential problem for the entire food chain.
How Your Business Can Help
Disposable plastic bans create a need for reusable alternatives.
Reusable straws for businesses and reusable bags are how your business can help customers adapt to the bans.
Creating reusable shopping bags or reusable straws and distributing these items to your customers makes it easy for your customers to follow the new measures. These reusable items are designed to hold up for many uses and can be recycled when they have fulfilled their usefulness.
Reusable items are good for the planet because they reduce the need for disposable items. Our reusable items are recyclable, making them even more beneficial for the planet.
Marketing Advantage
We make it easy to create custom reusable items, like shopping bags with your branding information or reusable straws that fit into a pouch with your brand's logo. These items will then not only serve a very useful purpose for your customers but also are a regular reminder of your business. Your customers will become very familiar with your brand and they will also endorse and promote your brand to a wider audience.
Easy Ordering
We work directly with our factory, so we make it easy to order custom reusable bags or straws in whatever quantity you need.
Our in-stock selection of items is ready to go. You just need to send us your artwork and we can imprint it on the item of your choice.
We also offer bulk and custom ordering. This allows for a much greater level of customization because your custom promotional products will be made to order. This is also a great way to secure a lower price per unit.
We work with some amazing clients, including American Express, Bank of America, Carnival Cruise Lines, Pepsi, The Home Depot, and Whole Foods and we want to work with you, too.
Rhode Island's disposable plastic bans are great news for the environment.
While these measures pose possible challenges for consumers, you can help make it easy for your customers to adjust to the new laws and go green!
Tagged