Ordering Reusable Grocery Bags? Don't Make THESE 2 MISTAKES!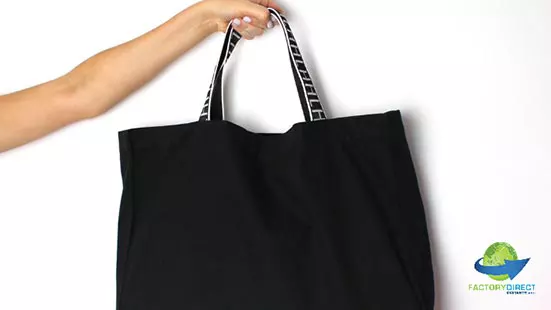 Find Out How to Save Time and Money When Ordering Reusable Grocery Bags
Custom reusable grocery bags are eco-friendly, cost-effective, in-demand, and proven to promote businesses. Maybe you've been wondering if marketing with promotional bags really works. It does, and if you want to place an order for your very own custom reusable bags there are two mistakes you want to avoid.
Here is what you need to know when ordering reusable grocery bags.
Do You Know the Two Ways to Order?
Before we uncover the two mistakes we see people make when ordering their reusable bags, we need to go over some important information. Because unlike other bag sellers, we have our own factory. Therefore, we are able to offer two ways to order reusable grocery bags when you work with us: in-stock or custom/bulk.
Our in-stock selection consists of already assembled bags in quantities from 250 and up. You select the style and color of the bags you want, send us your artwork and we perfectly print your artwork on the existing bags. Ordering from our in-stock selection is a good fit if you need a small quantity of bags quickly.
Our custom and bulk ordering gives you the opportunity to go beyond customizing a bag with just your logo and artwork. Your bags are manufactured just for you. If you want to use any of our existing bag designs you certainly can, but if you want to alter the design or create your own design, you can do that too.
Swap out the material, add pockets, lengthen the handles, or whatever else you have in mind to create a unique design. This is also a good option if you want to order larger quantities into the millions, as our in-stock selection is limited.
Don't Forget to Plan Ahead
Now onto the mistakes. The first mistake we see customers make is not planning ahead. When customers do not plan ahead they often have to choose from our in-stock selection so they can have bags ready for a specific event or function. Taking the time to plan ahead allows you to take advantage of our custom and bulk ordering. This gives you more opportunity to customize the bag and also enables you to secure a better price. The more custom reusable bags you order, the lower the price per bag. Our in-stock selection is limited, so large orders must be made to order.
Work With a Certified Reusable Bag Provider
The second mistake we often see if when customers chose not to work with a certified reusable bag provider. Many of our bags are certified reusable. This means our bags are designed to exact specifications and approved by CalRecycle.
Laws vary from one city or state to another, but some municipalities require bags to be certified reusable. It is important to understand any guidelines or rules you must adhere to before placing an order. We manufacture certified reusable bags that will meet any guidelines you must follow. You may want to consider certified reusable bags even if you are not required to do so.
Many of our customers have come to us after a bad experience with other bag manufacturers who did not offer certified reusable grocery bags. Their bags were a disaster with handles falling off and holes in the bags after only a few uses.
Bags that are certified reusable are designed to last and hold up against regular wear and tear. The longer a reusable bag lasts the more your branding message will be put on display.
Advantages of Reusable Bags
A staggering 73% of consumers own reusable bags. This means people have a need for reusable bags and are in the habit of using reusable bags. Getting your very own custom reusable grocery bags into your customer's hands means they are more likely to use them and promote your business.
Promotional bags can deliver 3,300 impressions of the course of their lifetime. This is a very significant number and this means your message will be seen. If you then look at the cost per impression for a custom reusable bag that costs $5 it works out to less than 2/10 of a cent per impression. This is a great way to really maximize your marketing budget.
Order Your Reusable Grocery Bags
We understand that custom reusable grocery bags are an investment in your business. This is something we take very seriously and we want to ensure you are able to secure a great deal and have your bags as soon as possible. This is why we encourage our customers to plan ahead and select certified reusable bags.
We have been helping our customers create custom reusable bags for over 10 years. We have a strong commitment to our customers and the planet, as if evident from our ISO certifications.
We want to make it easy for you to order so you can have custom reusable grocery bags that will make the most of your budget and effectively grow your brand. Shop our selection of certified reusable grocery bags. and reach out if you have any questions. We are here for you.