It's Raining Plastic. What Can We Do?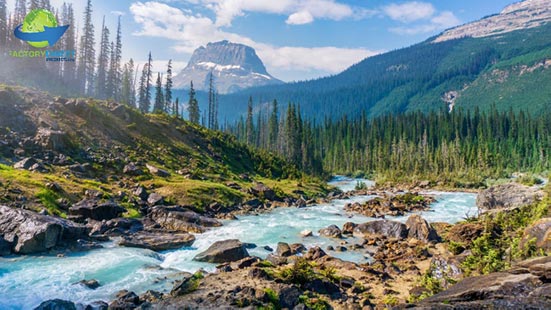 Understanding How Wet Microplastics Move
Recent studies have found several National Parks in the western U.S. are inundated with plastic litter, but these aren't disposable water bottles left behind by negligent hikers. Or at least, this plastic is not recently discarded litter. Microplastics have been found in rainwater samples that were collected and tested as part of the research.
It turns out plastic is raining down on us, so what can we do? We can #GoReusableNow! Reusable bags that are great for marketing can also provide part of the solution to ending plastic particles in the atmosphere.
What Are Microplastics
Microplastics are small plastic pieces that measure less than 5mm in length. These fragments are created when plastic litter is exposed to the elements and breaks apart into smaller and smaller pieces.
These pieces are so small, that they can pass through filtration systems, easily enter into the food chain, and it turns out travel through the atmosphere in water droplets, like rain.
Understanding Plastic Spiraling
We've known about the existence of microplastics for a while, but this research has shown that these tiny plastic pieces can be transported in water.
Janice Brahney, lead researcher, and professor of watershed sciences at Utah State University explains, "Plastics could be deposited, readmitted to the atmosphere, transported for some time, deposited and may be picked up again."
This cycle can continue indefinitely and wet microplastic pieces can continue to rain down and travel through the atmosphere.
What Can We Do?
Addressing the issue of existing microplastics is a complicated problem that does not yet have a solution. However, one approach to resolving the wet microplastic problem is to stop introducing plastic into the environment.
Preventing the problem from expanding is something we can all do right now to make a difference. Opting for reusable alternatives will reduce the use and demand for single-use plastics. Items like disposable shopping bags and single-use water bottles are not necessary when there are durable and reusable alternatives.
The unfortunate reality is that not all plastic is recycled. Eliminating unnecessary plastic prevents the creation of more microplastic.
Creating a Clean and Safe Future
Both as consumers and businesses we can turn to reusable bags. And don't let the plastics industry scare you away from promoting your business with reusable bags or using them during coronavirus.
Just like all reusables, bags are safe to use when cleaned. Regardless of whether or not we are in the middle of the flu season, your bags need to be washed.
Let's Do This Together
Reusable bags are a great way to reduce the amount of single-use plastic put out into the world, and it's also a great way to promote your business.
We've been in the business of creating custom reusable bags for over 10 years so we make the process easy and we have a wide selection of certified reusable bags.
These certified bags are designed to very specific guidelines set forth by CalRecycle and these reusable bags are built to last. Certified reusable bags are a good investment because your customers will receive a dependable product that they can count on that will also promote your business.
Shop our full selection of certified reusable bags and get your customized quote today.
Tagged