The Importance of Sustainability in Marketing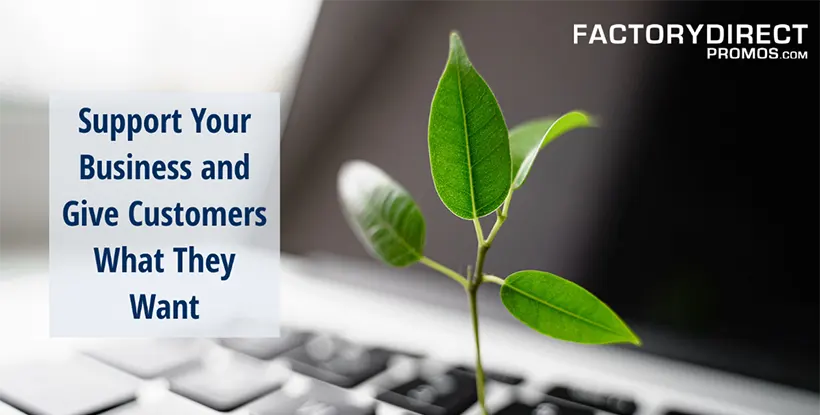 How to Support Your Business and Give Customers What They Want
Sustainability is the practice of fulfilling needs while managing the budget and social and environmental responsibility. While the value and importance of sustainability are universally understood, putting this concept into motion is a struggle for many businesses. Marketing is an easy way to practice sustainability while still promoting your brand. We explain why sustainability matters in marketing and how to ensure your marketing efforts are effective and sustainable.
Why Sustainability Matters
Everything businesses do impacts our world, and many companies and consumers want to ensure that impact is not disruptive. Reducing waste and being smart about how resources are used are ways a business can be more sustainable. Consumers like to support brands that do the right thing, so while being sustainable is simply essential for sustainability, it can also boost your brand's marketing.
Brands need to do more than say they are sustainable – they need to demonstrate what they are doing to be sustainable. Consistently is another part of the equation, and brands must ensure they follow through on all fronts. Marketing is very visible, and it is also an opportunity to show customers that your brand gets it and is truly sustainable.
Eco-Friendly Marketing
Promotional products like reusable bags and mugs are sustainable because they can be reused. The ability to use the items multiple times reduces the need and use of single-use items, which can be damaging to the environment. The reusable nature also helps marketing efforts because the more items are used, the more exposure the brand receives. One reusable bag can deliver thousands of impressions. Sustainable marketing items provide an excellent return on investment while showing customers that your brand is serious about sustainability.
Sustainable Promotional Items
You have options when it comes to choosing sustainable promotional items. Select an item that appeals to your customers because the item will create more impressions the more often it is put to use.
Cotton Reusable Bags
Our cotton handy bags are made from 6-ounce lightweight cotton canvas. These reusable bags are great for running errands, carrying items to work, or just about anything. Cotton is a natural fiber that gives the bag texture. Our cotton bags also have a large imprint area, so you can feature large artwork or a lot of text to get your message out there.
Recycled Notebook Combo
These notebooks are made from recycled content and include a pen for easy note-taking. The spiral-bound design allows the notebook to lay flat or with pages folded under for comfortable writing. The cover can be customized with your logo, so your brand will be front of mind whenever your customers reach for the notebook.
Econo Polypropylene Cups
The double-wall construction of the polypropylene cups keeps beverages at the ideal temperature while the lid design prevents spills and messages. Polypropylene is BPA-free for peace of mind, durable, and recyclable. Once these cups are customized with your branding message, they will constantly remind you of your brand.
Create Your Sustainable Marketing Item
Sustainability is important to your customers and brand, and we make it easy to integrate into your marketing. Custom reusable items like bags, mugs, and pens help customers connect with your brand while aligning with your green goals. Check out our selection of reusable products, all of which can be customized with your marketing message to promote your brand.
We have a proven track record of helping our customers create custom reusable products for over a decade, and we want to help you, too! Call us at 866-222-0949 or shop our full line of eco-friendly promotional items and get your custom quote.