Custom Reusable Bags Generate Impressions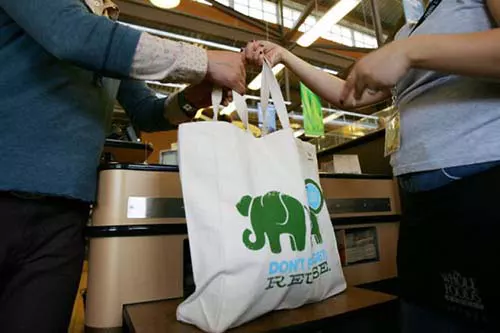 ASI Says Custom Reusable Bags Generate More Impressions Than Any Other Promotional Item!
According to the Advertising Specialty Institute (ASI), custom reusable bags generate more impressions in the United States than any other promotional item. Each custom reusable bag generates a whopping 5700+ impressions. This is a staggeringly high amount. For such a low price, this is obviously a great return on your marketing dollar. Plus, you can choose custom reusable bags that fits perfectly with your demographic. Here's how to select custom reusable bags that will leave an impression on your target market.
Create the Must Have Trade show Takeaway
There's usually that one booth at every trade show that has the takeaway everyone wants. Make sure that's your booth by offering custom reusable bags for your next trade show. A custom trade show bag fills an immediate need by giving people a way to carry all of the handouts, business cards, water bottles and all of the things they accumulate.
Offering custom reusable bags will give your company a ton of exposure and impressions at an industry event, which is marketing that can't be beat. Plus, trade show bags will still find a purpose long and be giving your brand impressions long after the event is over. Your customers are certain to still use your branded drawstring bag for several years, continuing to promote your brand.
Give Your Customers a Niche Bag
You know your customers and what they like. Custom reusable bags that fit a specific purpose will fill a need. The more useful your custom reusable bag is, the more apt your customers are to use it, and the more they use your custom reusable bags, more exposure they give your brand.
Wine totes offer an easy and comfortable way to carry bottles of any kind. The separate compartments make transporting bottles safe and simple. Insulated cooler bags come in so many shapes and sizes. From lunch totes to larger bags great for carrying frozen goods home from the store, or even warm dishes to a pot luck.
Go With the Tried and True Reusable Grocery Bag
There is a general appeal and simplicity to reusable shopping bags. These bags are commonly used for grocery shopping, but they can basically be used for anything. Reusable shopping bags are incredibly versatile. All of our bags can be modified in their design to create a bag that will look and function exactly how you wish. Add pockets, zippers, change the handle length, make the gussets a different color or change anything else you dream up.
Custom Reusable Bags Make an Impression On Your Target Market
Custom reusable bags are proven to effectively spread your marketing message and increase your brand's impressions and awareness to your target market. The more people that see your logo the more they will recognize your company.
The recognition and familiarity people feel when they use your custom reusable bags, translates into increased sales and support. Are you interested in placing an order? Do you need a quote? We're here to help! Fill out a product quote request form on any page of our site and we will get to work helping you create custom reusable bags that will be sure to make an impression on your target market.
Tagged