What Cities Have Banned Plastic Bags?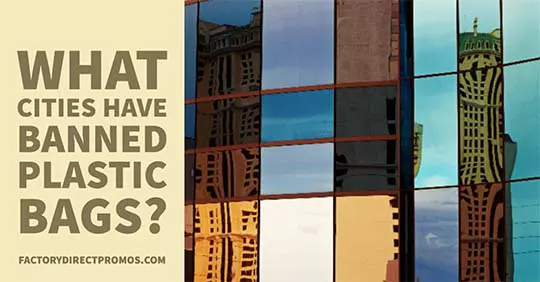 Learn What Cities Have Plastic Bag Bans
Plastic bag bans began to gain traction around 2007 when San Francisco approved a law prohibiting disposable plastic bags in certain retail establishments. San Francisco's ban was not implemented until 2012, and it was expanded in 2013, but ever since the law was first approved, plastic bag bans have continued to pop up.
We have highlighted below several cities that have plastic bag bans in place. To learn more and see the plastic bag ban movement as a whole, check out our bag ban map. Our bag ban map of the entire world shows which cities have banned plastic bags, implemented bag fees, and shows those cities that have had failed bag bans. You can also get a quick alphabetical list of cities that have plastic bag bans on our Top Green Cities in the U.S. page.
The Golden State Leads the Way
California has, by far, the most plastic bag bans of any state. What started in San Francisco has spread to more than 100 cities, counties, and municipalities that have passed bans and/or levied fees. If that wasn't enough, a statewide plastic bag ban in California was passed, so any area that was not already covered by a local law is now covered by the statewide ban.
The Bay Area Kicked Things Off
One of the key cities to set the plastic bag ban movement into motion in California is just across the bay from San Francisco. Shortly after Oakland passed a ban in 2007, a plastic trade organization filed a lawsuit against the City.
A judge overturned the ban. This experience taught other cities to how to structure their bans to hold up against lawsuits. Later efforts to pass a ban were successful and single-use plastic bags have been banned in Oakland since 2013.
Massachusetts is Closing In on California with Plastic Bag Bans
Massachusetts has made a quick study in plastic bags bans. To date 47 cities and towns have approved bans, and there are more proposals under consideration. The Bay State also holds the distinction of being home to the very first plastic bag ban in the U.S.
In 1990 Nantucket passed a ban. The impetus of the ban was an overflowing landfill. The town was faced with an expensive solution that involved shipping garbage off their island, or reducing trash and increasing their recycling efforts. The residents of Nantucket chose to ban disposable plastic bags.
Minneapolis Passed a Plastic Bag Ban
In April 2016 the Minneapolis City Council approved a ban on disposable plastic bags. The law is scheduled to go into action on June 1, 2017. There is a proposal in Minnesota that if approved would prevent cities from passing bans, this measure is essentially a ban on plastic bag bans. For now the ban in Minneapolis is set to take effect, but if the statewide measure is passed it will put an end to it.
Demand for Reusable Bags Increases
More than ever in recent history, Americans are carrying eco-friendly bags like recycled bags, custom reusable grocery bags and reusable tote bags. In areas that have bag bans, reusable bags are necessary but many shoppers are picking up reusable bags by choice, not because of a law.
Reusable bags are double eco-friendly. They reduce the use of disposable plastic bags, which makes them a very eco option, but when they are made from recycled or sustainable materials they are even better for the environment.
Custom reusable bags make it possible for your brand and your customer to go green. Don't just know about the ban, be about the ban. Your company can uphold plastic bag bans. Turn your customers and prospects into on-the-go brand advocates with our reusable bags.
Tagged